Articles
Feb. 13, 2015 02:26PM EST
11 Killer photos of jets in full afterburner
Check out these shots of jets turning pounds and pounds of fuel into speed when the pilots push the throttles into afterburner.
---
An F/A-18C launches off of Cat 3 with both GE F-404 motors in full burner.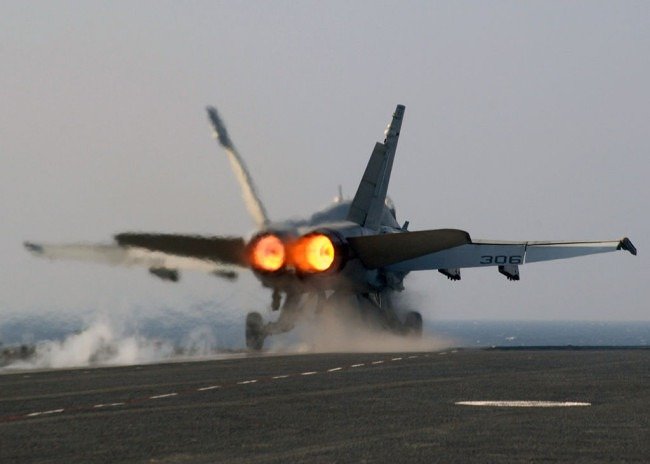 Interesting to note that Hornet pilots take the cat shot with their right hand gripping the canopy rail and not on the stick. (Photo: U.S. Navy)
An Air Force F-16 launches out of Aviano, Italy at night with it's single GE F-110 engine in full afterburner.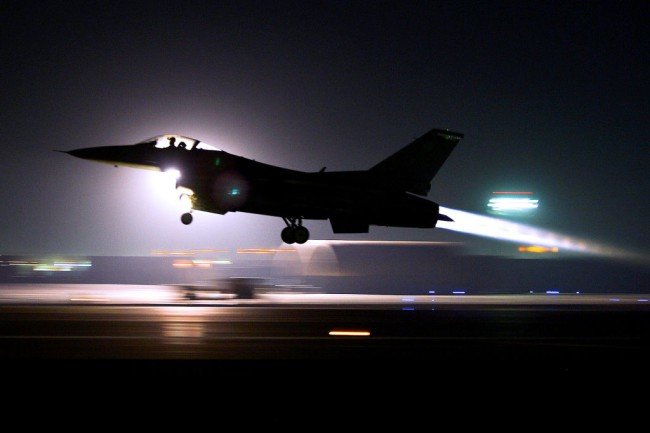 An F-22 Raptor makes a high-G pass at an airshow with it's Pratt and Whitney F-119 engines at full power.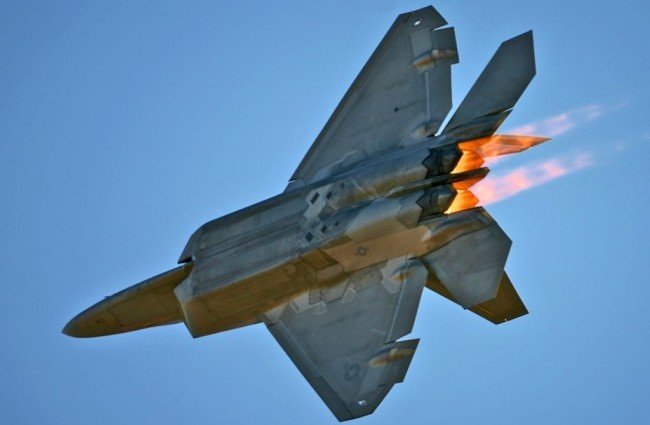 The F-119 is designed to allow the Raptor to reach supersonic speeds without afterburner. (Photo: Air Force)
And F-15 Eagle launches with both Pratt and Whitney F-100s in full afterburner.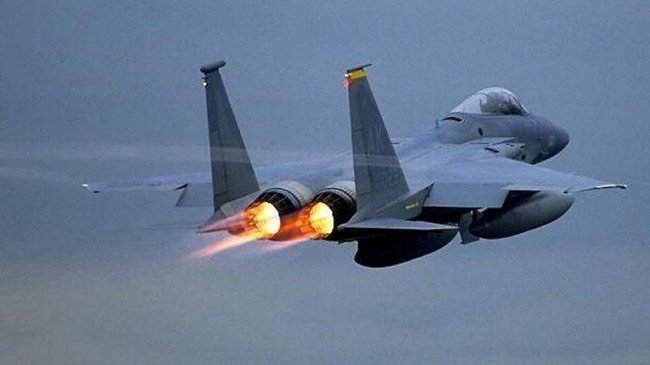 An F/A-18C Hornet raises the gear and starts a left hand clearing turn off the cat with vapes streaming off of the wingtips and both GE F-404s at full blower.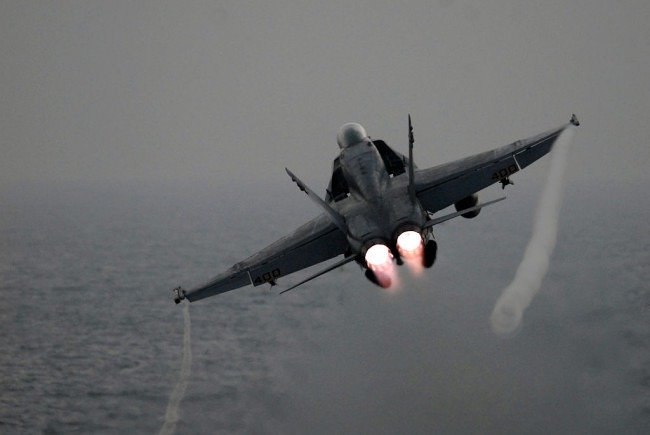 They didn't call the F-14 the 'big fighter' for nothing. Here a Tomcat rages down Cat 1 with it's Pratt and Whitney TF-30s at Zone 5 (full power).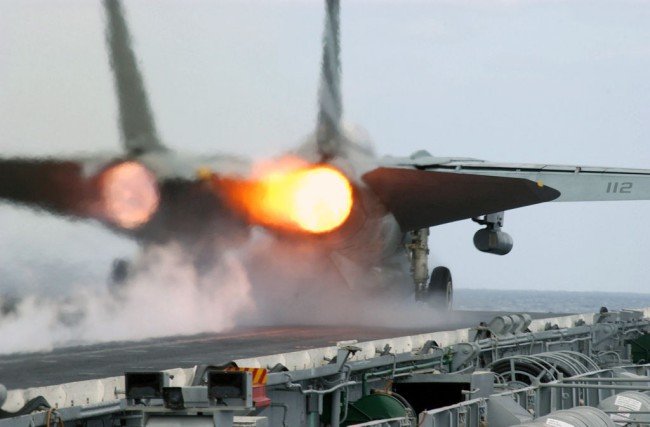 Later Tomcat models used the GE F-110, which was generally considered a more powerful and reliable engine. (Photo: U.S. Navy)
A B-1 'Lancer' (better known as "The Bone" -- B+one . . . get it?) turns at sunset with all four GE F-110s (same engine used on models of the F-16 and F-14) in full afterburner.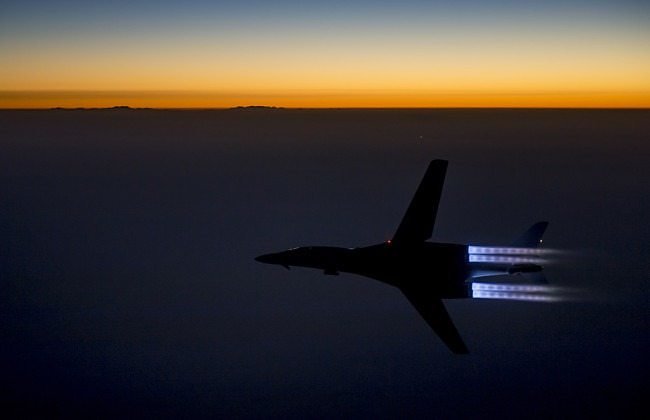 The B-1 was designed for Cold War-era missions where pre-stealth conventional wisdom was to come into a target low and fast. (Photo: USAF)
An F-111B zorches over the water with wings swept aft and Pratt and Whitney TF-30 engines at full power.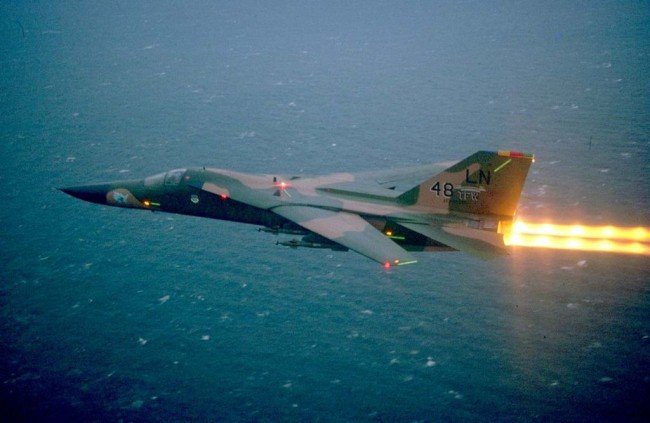 While the TF-30 had compressor stall issues with the F-14 it worked well for the F-111. (Photo: U.S. Air Force)
Another shot of an F-14A Tomcat on the cat in afterburner.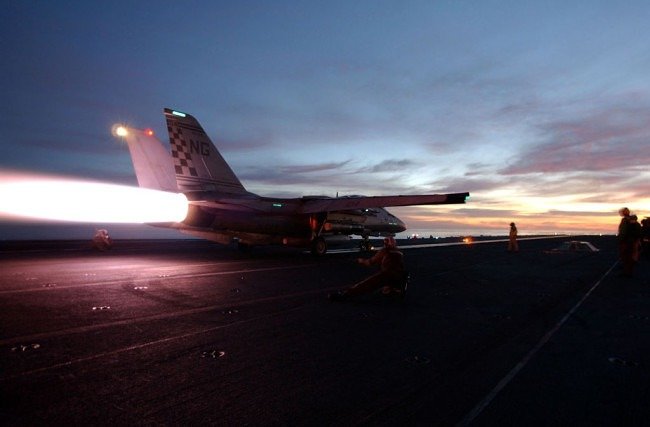 Pilots would start cat shots with throttles at the Zone 2 setting and then push them forward to Zone 5 as the jet accelerated toward the carrier's bow. (Photo: U.S. Navy)
A MiG-25 starts its takeoff roll with both Tumansky R-15B-300s at full power.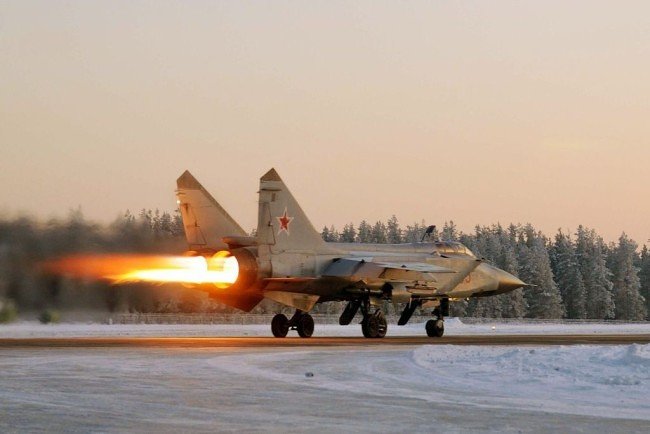 The Foxbat is a scream machine, speed-wise, and has been clocked hauling at over Mach 3.
The F-35B Lightning II isn't designed for speed as much as forward quarter lethality and survivability; but it's single Pratt and Whitney F-135 does create a nice burner plume in this gorgeous sunset shot.