Articles
Jul. 01, 2015 08:20AM EST
Here's what training is like for the Air Force's most elite operators
America has some of the world's most elite special operators and they get a lot of press. But on most of the missions that Special Forces, SEALs, and other top operators conduct, they bring a very special airman.
---
The Air Force combat controller moves forward with other special operators, swimming, diving, parachuting, and shooting with their brethren. But, they act as an air traffic controller and ground observer while doing so. They can also conduct missions with other Air Force special operators, seizing enemy airports and controlling air power for follow-on forces.
In his book "Kill Bin Laden," former Delta Force commander Dalton Fury writes:
The initial training "pipeline" for an Air Force Special Tactics Squadron Combat Controller costs twice as much time and sweat as does the journey to become a Navy SEAL or Delta operator.

Before their training is complete someone brainwashes these guys into thinking they can climb like Spiderman, swim like Tarzan, and fly like Superman — and then they have to prove they can, if they plan to graduate.
Being a combat controller takes a lot of brainpower and muscle. Here's how the U.S. Air Force takes a bunch of talented young men and turns them into elite warriors.
Air Force Basic Military Training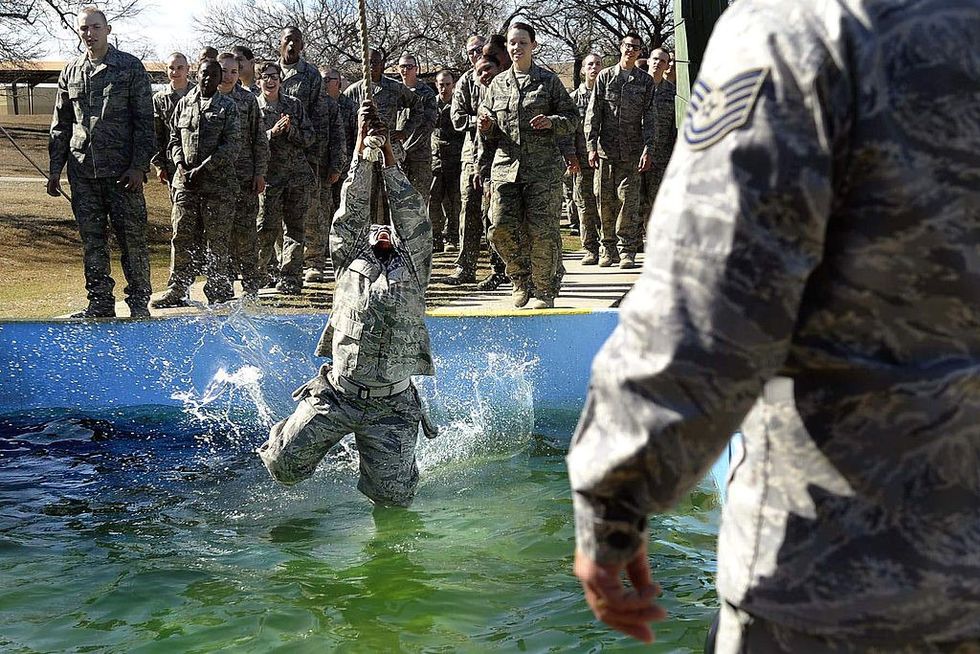 Photo: US Air Force Master Sgt. Cecilio Ricardo
Like all other service members, combat controllers begin by learning the fundamentals of military life. Airmen attend basic military training at Lackland Air Force Base. Recruits go through a processing week and eight weeks of training.
Combat Control Screening Course
This two-week course is also on Lackland, and it's purpose is in the name. Students are physically screened and have to pass tests in seven events to move on. The events are: push-ups, sit-ups, pull-ups, 1.5-mile run, 500-meter swim, 4-mile ruck march, and an obstacle course.
"We need this two weeks just to make sure they're the right guys to be combat controllers and they're going to be successful in the pipeline," says an Combat Control selection instructor in the Air Force video above.
Two weeks may seems like a short time for airmen to be screened and prepared for the rest of the combat controller pipeline, but the class is so tough that the Air Force has published a 26-week guide to help recruits physically prepare. The students will be tested on the seven physical tasks throughout the training pipeline with the standards becoming more rigorous at each testing (Page 12).
Immediately after the screening course, students may find themselves waiting for an open slot at the combat control operator course. They are tested weekly to ensure their performance on the seven physical tasks mentioned above don't slip.
Combat Control Operator Course
This course lasts for just over 15 weeks at Keesler Air Force Base, Miss. It focuses on recognizing and understanding different aircraft, air navigation aids, weather, and air traffic control procedures. It is the same course all other air traffic controllers in the Air Force attend.
Airborne School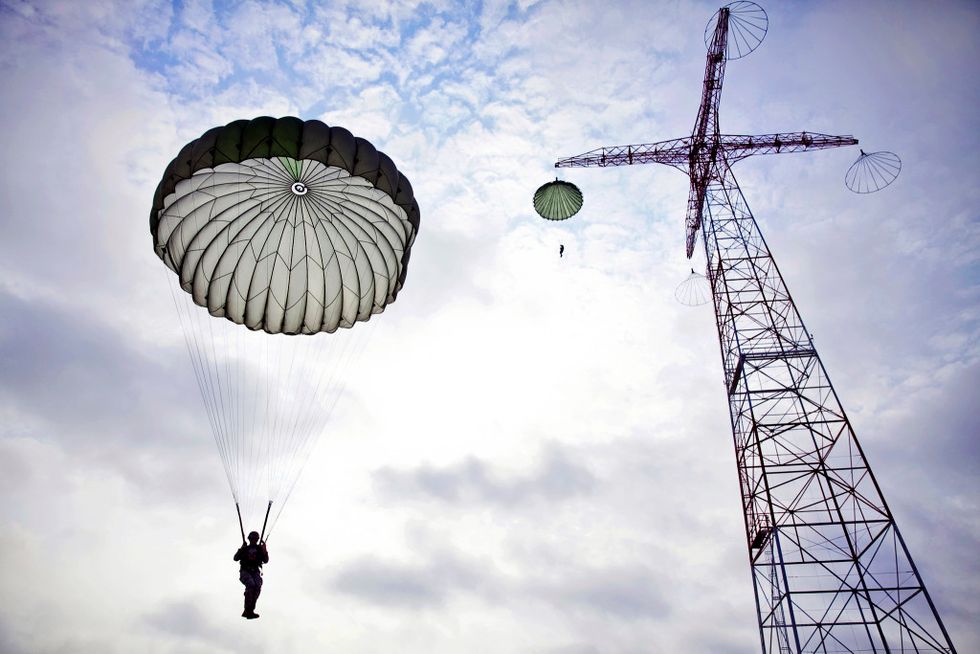 At Fort Benning, Ga., airmen go through the U.S. Army Airborne School. Here, they are taught how to safely conduct static-line parachute jumps from an airplane and infiltrate an enemy-held objective area.
Basic Survival School
To learn basic survival techniques for remote areas, future combat controllers spend more than two weeks at the Air Force Basic Survival School at Fairchild Air Force Base, Wash. By graduation, the airmen should be able to survive on their own regardless of climatic conditions or enemy situation. Survival training is important for combat controllers since they'll be deployed to a variety of austere environments.
Combat Control School
In 13 weeks at Pope Army Air Field, North Carolina, students are taught small unit tactics, land navigation, communications, assault zones, demolitions, fire support, and field operations. It is at the end of this course that students become journeyman combat controllers and they are allowed to wear their iconic scarlet beret and combat controller team flash.
Special Tactics Advanced Skills Training
Though they are technically now combat controllers, airmen will then spend almost another year training in Special Tactics Advanced Skills Training at Hurlburt Field, Fla. AST is broken down into four phases: water, ground, employment, and full mission profile. By full mission profile, combat controllers should be able to do their full job in simulated combat. The training at Hurlburt Field allows combat controllers to infiltrate enemy territory through a variety of means. A combat controller going to work "involves jumping out of an airplane, or sliding out a helicopter down a fast rope, or riding some sort of all-terrain vehicle, or going on a mountain path on foot," Air Force Maj. Charlie Hodges told CNN.
AST is challenging. "This is probably about the most realistic training you could get here back in the states to get you prepared for the real world," Air Force 1st Lt. Charles Cunningham, a special operations weather officer said in an Air Force video. "They add a very serious element of realism and make it as intense as it can be."
While in AST, combat controllers will depart Hurlburt Field to complete the following three schools.
Military Free Fall Parachutist School
Students will train at Fort Bragg, N.C., and then Yuma Proving Grounds, Arizona. Trainees learn free fall parachuting procedures over a five-week period by practicing in wind tunnels and in free fall. Students learn stability, aerial maneuvers, air sense, parachute opening procedures, and canopy control.
Students jump from up to 35,000 feet above sea level and may wait until below 6,000 feet above the ground to open their chute. One student in the video above calls it "the best school I've ever been to."
Combat Divers School
At the U.S. Air Force Combat Divers School in Panama City, Fla., combat controllers learn to use SCUBA and closed-circuit diving equipment to infiltrate enemy held areas. The course is four weeks long.
Underwater Egress Training
Only a day long, this course teaches the controllers how to escape from a sinking aircraft. It is taught by the Navy at Pensacola Naval Air Station, Fla.
Graduation and assignment
Finally, after completion of the AST and the full mission profile, combat controllers are ready to head to a unit where they'll receive continuous training from senior combat controllers and begin building combat experience on missions.
What? You thought they were done? To be able to augment Delta, Seal Team 6, and conduct missions on their own, combat controllers are never done training.