Articles
May. 20, 2016 10:21AM EST
Australian soldiers use this crazy device to carry heavier machine guns
The Australian Army has found a fairly ingenious way of helping machine gunners hold their weapons steady while firing from the standing position. The Reaper weapon support system is a backpack that redistributes some of the machine guns's to the shooter's back.
---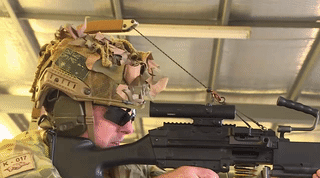 GIF: YouTube/AustralianArmyHQ
Holding weapons steady in the standing firing position can get challenging for troops who have already rucked around the battlefield all day. The Reaper should let them get more rounds on target and reduce how far their barrels wander due to flagging arm strength.
It also looks pretty sweet sticking over their back like a scorpion's tail. See the video below to learn more about it: