Articles
April 07, 2016 11:35:32 EST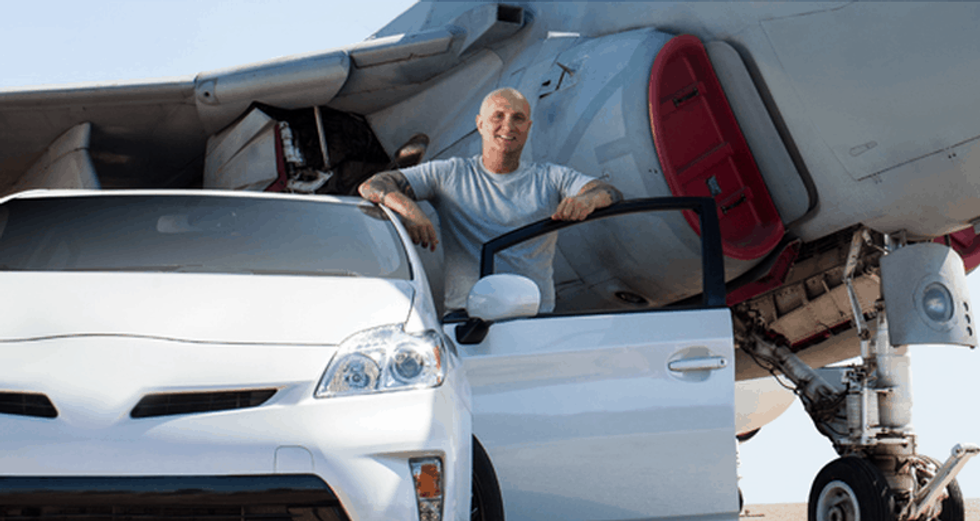 ---
In 2014 the ride service Uber launched "Uber Military," a veteran hiring initiative designed to get transitioning service members interested in becoming a "partner," as the company calls its drivers. Since that time Uber has signed up more than 50,000 veterans as drivers.
As a result of the milestone, Uber just announced that they are donating $1 million dollars to a host of veteran charities including the US Chamber of Commerce Foundation's Hiring Our Heroes, Tragedy Assistance Program for Survivors (TAPS), Iraq and Afghanistan Veterans of America (IAVA) and Homes for our Troops.
"Over the past 18 months, we've crisscrossed the country to hear the stories of servicemembers and veterans," Uber's Emil Michael wrote in a company blog post. "Everywhere we go, they tell us that they want opportunities to make money on their own terms and set their own schedules. We're thrilled to be able to give more servicemembers and veterans the on-demand work opportunities they've been asking for."
The charities were picked by the Uber Military Advisory Board, an impressive collection of veterans that includes former Secretary of Defense Robert Gates, former ISAF commander Gen. Stanley McChrystal, and former Chairman of the Joint Chief of Staff Adm. Mike Mullen (who's also on WATM's Board of Directors).
There are other elements to the Uber Military initiative beyond a big donation to military charities. Uber has incentivized drivers to begin or end a ride on military installations by paying higher rates for those trips. The company has also partnered with Mothers Against Drunk Driving to create awareness about the perils of driving while intoxicated, particularly in military communities that tend to be spread out and require the use of cars to get around.
The Uber Military promotional campaigns are currently centered around the big military populations in California, Texas, and Florida, but the company wants to encourage veterans nationwide to sign up to be drivers.
Kia Hamel is a Navy vet as well as a Navy spouse. Her husband is stationed in Hampton Roads as the executive officer of an amphibious ship, and she has remained in the DC Metro region to keep working as a paralegal while she pursues her master's degree. Kia has a 4th-grader at home and a son nearby who's attending college. She first heard about Uber through an email from a third-party employment company, and almost on a whim she clicked on the company's site link.
"The first thing I noticed was that the drivers didn't fit the classic cabbie profile," Hamel says. "I filled out the forms and two weeks later I downloaded the partner app and I was an Uber driver."
Before Hamel got her part-time job with the law firm, she was driving more than 40 hours a week. "You can make a living wage," she says. Now she drives when her schedule allows -- in the morning during rush hour or on weekends. "For me it's all about the flexibility."
Thank You | UberMILITARYTo the veterans and military family members who have chosen to hit the road with us—thank you. ubr.to/50k

Posted by Uber on Thursday, April 7, 2016
Todd Bowers, Marine veteran and Uber's director of military outreach, points out that Uber's military vet drivers have driven in 175 cities in all 50 states and that their combined trip distance to date adds up to 78,309,082 miles.
As Bowers travels around the country trying to create awareness in military communities and with veterans everywhere, he's always amazed at the wide range of profiles of those driving with Uber. "I went to an MBA program a couple of days ago and asked if any of them had driven for Uber, and five officers in the classroom raised their hands," Bowers says.
"We understand our utility in the veteran employment timeline," Bowers says. "We're probably not anyone's 'forever' job, but we're a great way for vets to earn income when they're in transition or in need of a part-time job that has max flexibility."
Here's some more at-a-glance data: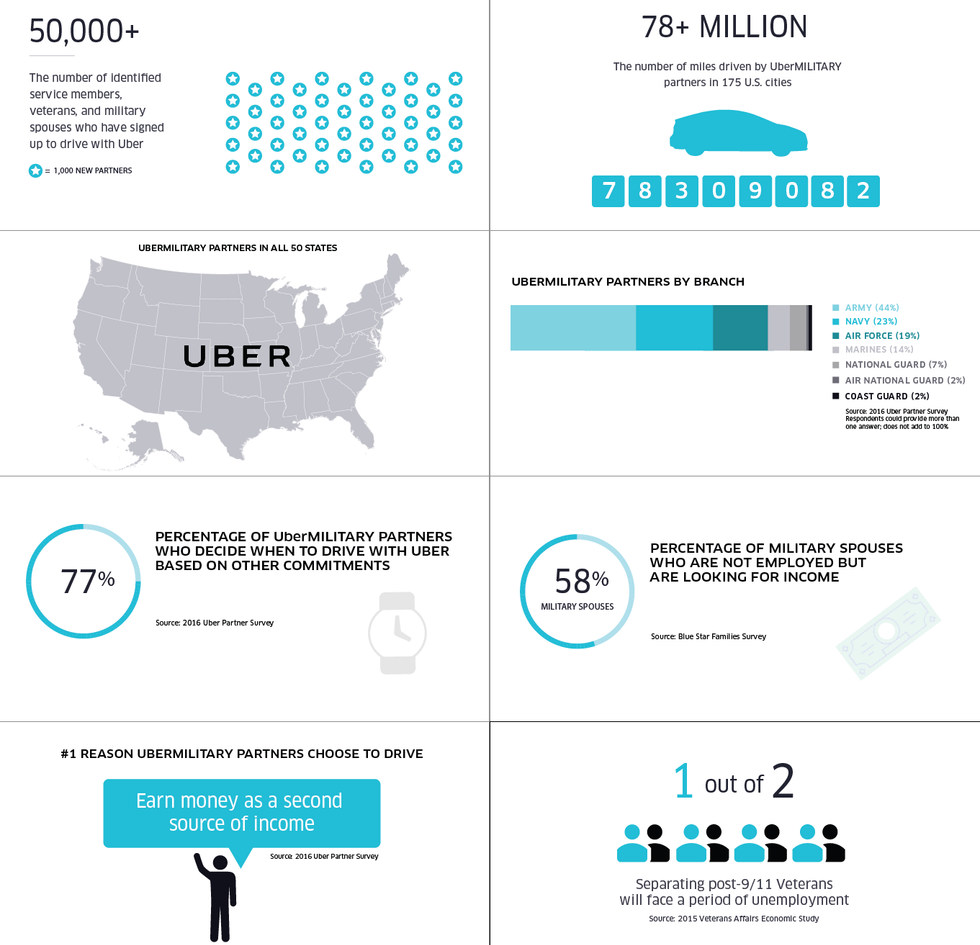 If you're a military veteran or active duty servicemember who wants to know more about how to get started as an Uber driver go here.