Articles
March 16, 2016 05:39:19 EST
Not all acts of heroism take place on the battlefield. Here are 6 times when troops jumped into harm's way:
---
1. Sgt. George Long helped protect his leaders during a Fort Hood shooting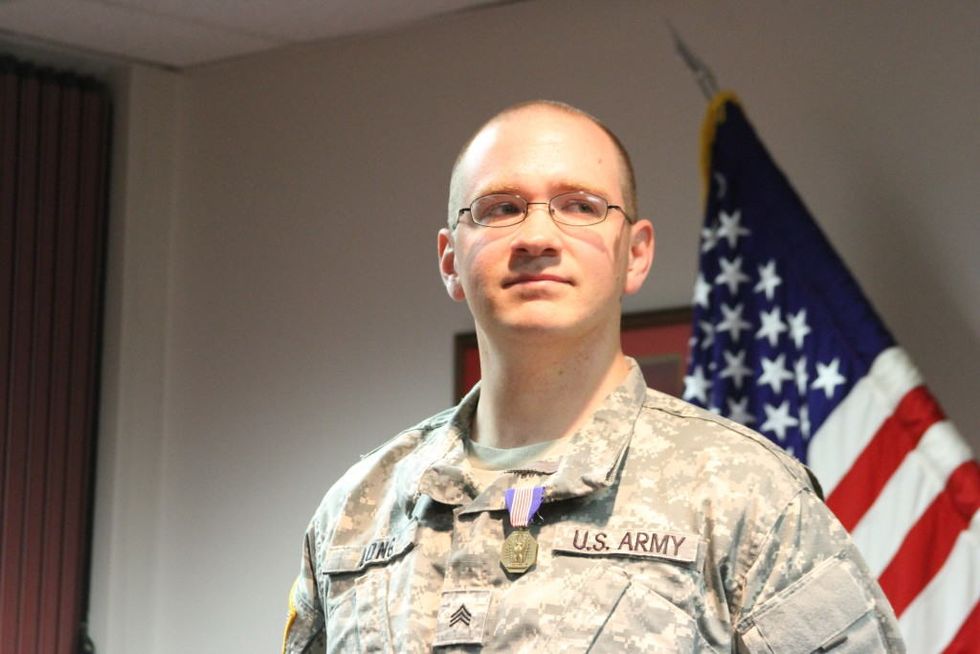 Photo: Army Capt. Devon Thomas
On Apr. 12, 2014, Sgt. George D. Long was in a meeting with leaders in his battalion at Fort Hood when shots broke out in the building. When the shooter approached the conference room, Long and Sgt. 1st Class Daniel Ferguson sprinted to the door and held it shut, continuing even when shots began coming through the door. This saved the lives of the other soldiers in the room.
Long received the Soldier's Medal but remains humble about his service. He opened an interview with an Army journalist by listing other people who saved lives during the Fort Hood shooting, especially Ferguson. Ferguson tragically died during the event.
2. A Fort Drum soldier pulled people from a burning tour bus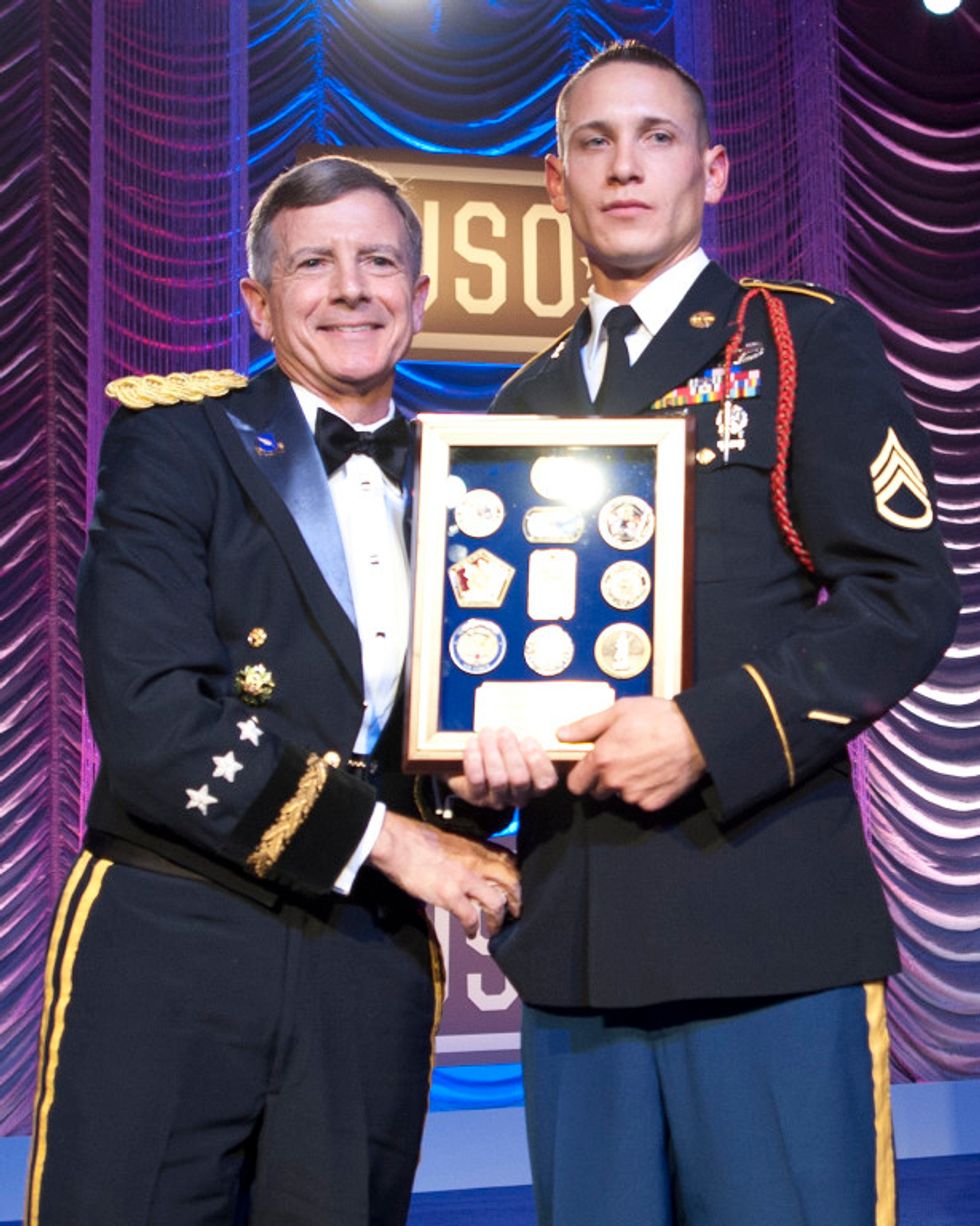 Jacob Perkins, after a promotion to staff sergeant, accepts the 2012 Soldier of the Year Award. Photo: US Army Staff Sgt. Sun L. Vega
On the New York State Thruway in 2011, Then-Sgt. Jacob Perkins spotted a burning tour bus that had struck a semi-truck. He rushed into the blaze and began pulling out the survivors. 53 people were on the bus when it hit and 30 were injured but everyone survived thanks to Perkins' quick actions.
"This is a momentous occasion," said then-Maj. Gen. Mark A. Milley, now the Army Chief of Staff, at the Soldier's Medal ceremony for Perkins. "If there were bullets flying and it was the Taliban, Sergeant Perkins would be getting the Medal of Honor.
3. Two sailors and an airman rescued the crew of a crashed helicopter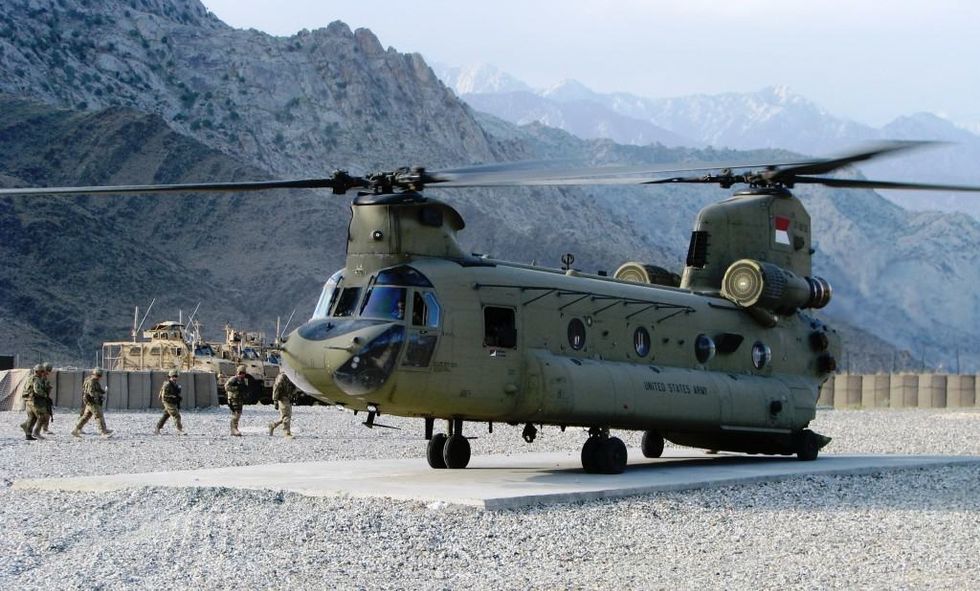 A Chinook loads passengers at Forward Operating Base Kala Gush's flight line. Photo: US Army Maj. Christopher Thomas
A resupply helicopter carrying mortar rounds and other munitions crashed on the flight line of Forward Operating Base Kala Gush, Afghanistan on May 3, 2010. Immediately, troops sprinted to rescue the aircrew. Air Force Staff Sgt. Steven R. Doty arrived in seconds and avoided the still-spinning rotor blades while he forced an opening into the wrecked bird. Once the crew began evacuating, Doty climbed inside and attempted to shut down the engines.
Meanwhile, as leaking fuel spread from the wreckage and coated the mortar rounds strewn on the ground, Hospitalman Corpsman 2nd Class Roy D. Jaquez yelled for non-essential personnel to stay back and used his bare hands to rip out the windshield. He then climbed to one of the injured crewmembers and got him or her to the aid station for treatment.
At the same time, Navy Lt. Kyle Burditt and Army First Lt. Alex DeSeta assisted two aircrew members as they evacuated the helicopter.
After Burditt, DeSeta, Jaquez, and others got the crew safely away, Doty finally gave up on shutting off the engines and escaped the crash site. All four heroes received Soldier's Medals.
4. An airman lead a rescue attempt in the middle of burning jets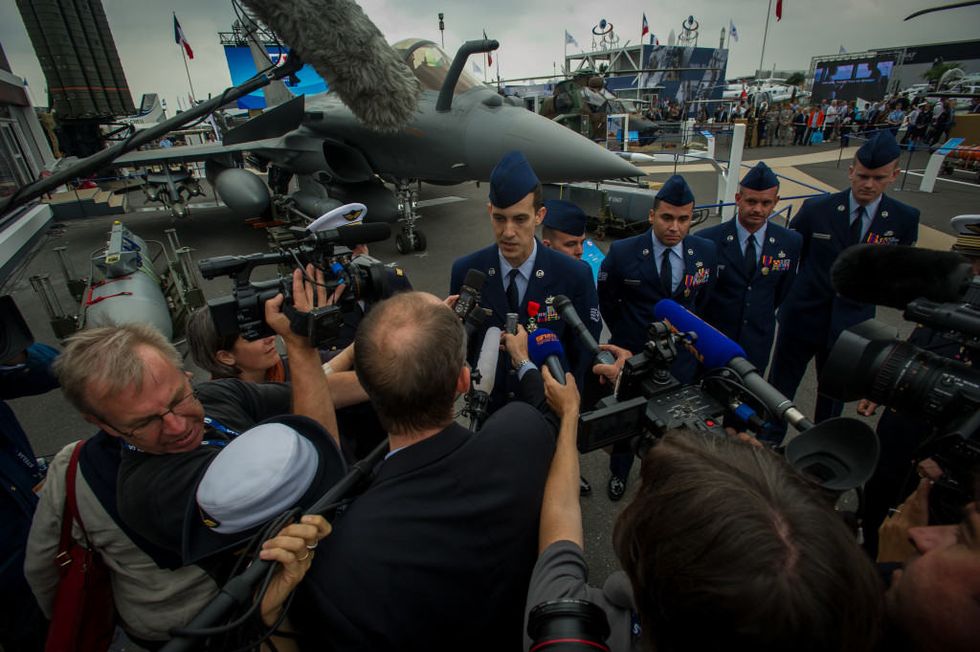 Staff Sgt. Greggory Swarz speaks to French journalists after receiving the French Legion of Honor. Photo: US Air Force Tech. Sgt. Ryan Crane
On Jan. 26, 2015 a Greek F-16 crashed into French jets at a refueling point during an exercise at Los Llanos Air Base, Spain. The flames from the wreck killed two Greek pilots and nine French troops, but U.S. airmen moved in to save everyone they could.
One of the first on the scene was U.S. Air Force Staff Sgt. Greggory Swarz who rushed into the flames to start pulling out the wounded. Swarz actually burned his own hands while pulling others from the fire, according to another airman at the scene. As Swarz was doing his work, other airmen used mobile fire extinguishers to put out people and loaded the wounded into a van.
Three French service members survived thanks to the airmen's actions. Swarz received the Airman's Medal, the French Legion of Honor, and the Spanish Cross of Aeronautical Merit for his actions. Four airmen received French National Medals of Defense and five airmen received Crosses of Aeronautical Merit.
5. An Air Force master sergeant saved dozens after Haiti earthquake
Photo: US Marine Corps Lance Cpl. David J. Beall
Master Sgt. Keith M. O'Grady was on the first plane to land in Haiti after the 2010 earthquake there. O'Grady and his team pulled 13 people from the rubble by tunneling into fallen debris with bare hands, concrete breakers, and digging bars. O'Grady voluntarily climbed through miles of these unsupported tunnels to rescue survivors, often burrowing past the remains of people who didn't survive.
The team also provided advanced medical care to 27 patients and transferred 18 patients to trauma centers. O'Grady received the Airman's Medal for his work and valor.
6. A soldier in Germany evacuated most of a burning apartment building before police arrived, then helped pull out two final survivors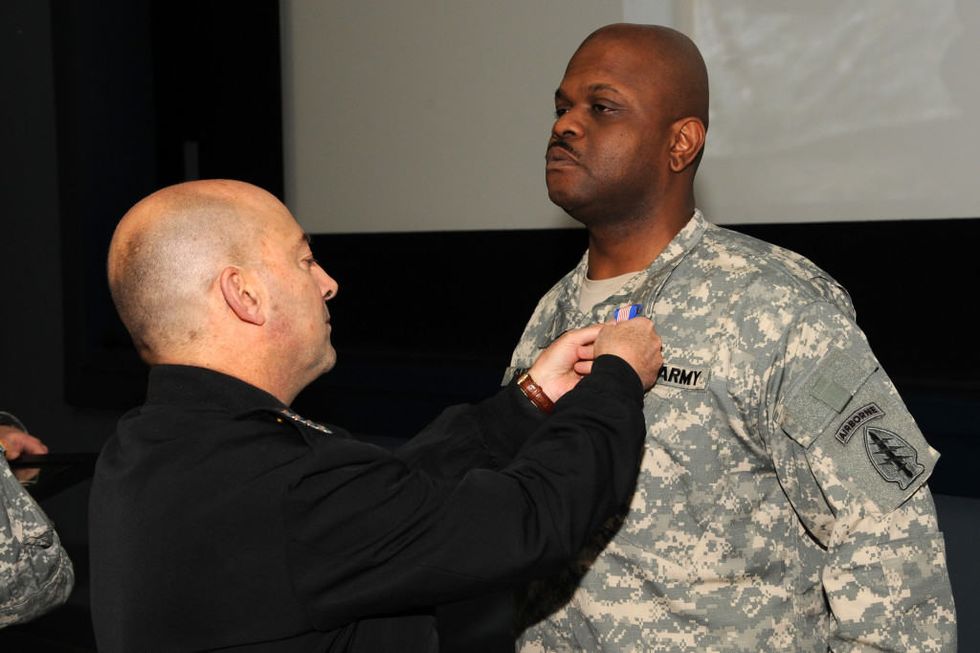 Spc. Willie Smith was returning from a night out in Stuttgart, Germany when he saw flames rising from a wooden apartment building. His friend called emergency services and Smith began moving through the building, sounding the alarm. Smith's warnings allowed approximately 30 people to escape before the flames grew too large.
But when the German police arrived, they discovered that an elderly couple was missing. So Smith rushed back in with them. Smith helped the man out while police woke and escorted out the woman. He received the Soldier's Medal for his actions.