Intel
December 01, 2015 14:28:58 EST
Two Belgian physicists have analyzed both Russia and Turkey's stories surrounding the Russian Su-24 that was shot down by a Turkish F-16 on Nov. 24. Their conclusion is that both countries are making claims that are physically impossible.
---
Physicists Tom van Doorsslaere and Giovanni Lapenta checked into Turkey's claims and concluded that two of them were likely false. They reject the claim that the jet spent 17 seconds in Turkish air space and that the Turkish military issued ten warnings to the Russian jet.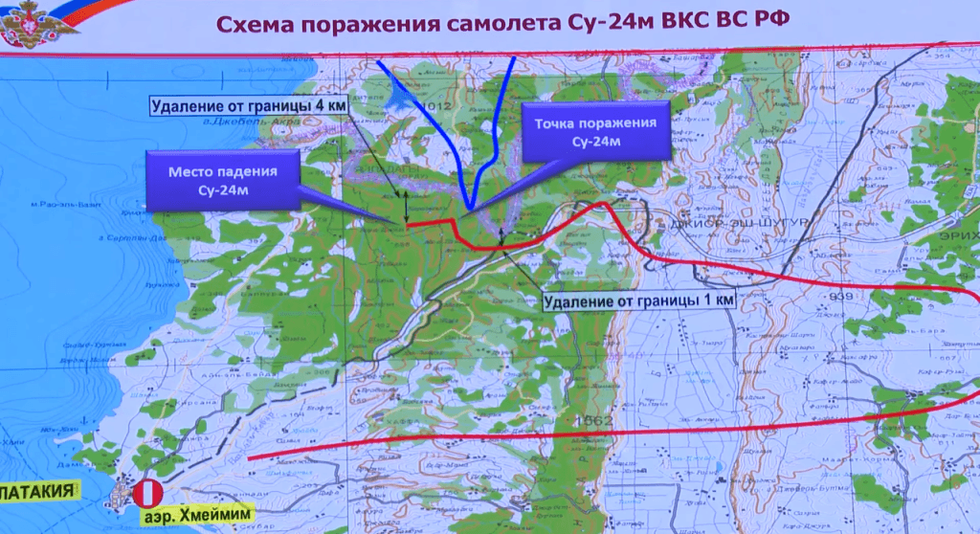 The red line is what Russia claims is the path of their Su-24 jet, the purple is the Turkish border, and the blue line is the path of the Turkish F-16. Map: Russian Ministry of Defense
The physicists also assert that Russia's map showing the route of their jet is also bogus because the course change claimed by Russia could not have been caused by the relatively small missile that hit it.
To see the physicists logic and math, check out the full story at Motherboard.