On Friday, March 19, a volcano erupted near Fagradalsfjall, a mountain on the Reykjanes Peninsula, about 19 miles from the Icelandic capital of Reykjavik. The eruption was the first on the peninsula since the 12th century. It shot lava 100 meters into the night sky and covered one square kilometer. The eruption on Friday was preceded by a heavy increase in seismic activity.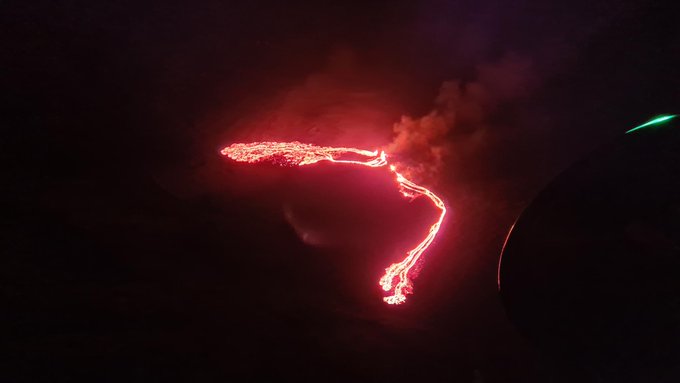 In the past four weeks, the peninsula has experienced over 40,000 earthquakes. This is in contrast to the annual average of 1,000 to 3,000 earthquakes that have been recorded since 2014.
The Icelandic Meteorological Office classified the eruption as small. It also announced that the lava posed no danger to people or any critical infrastructure. In fact, residents were driving up to see the volcanic activity.
Aside from the lava flow, the eruption also created a fissure between 500 to 700 meters long from which the lava poured. Although the lava posed no danger, the eruption also released volcanic gas. Residents of the town of Thorlakshofn, downwind of the volcano, were warned to remain indoors.
Unlike the eruption of Eyjafjallajökull in 2010, which grounded nearly 1 million flights, affected approximately 10 million air travelers over three months, and displaced hundreds of Icelanders, this eruption is not expected to affect air travel or settlements. The ash and smoke from the eruption is not projected to be great enough to cause a flight risk in the atmosphere.
Keflavik International Airport in Reykjavik did not close after the eruption and gave each airline the choice to continue flying or not. The airport reported no disruptions to scheduled air traffic.