How this 'Shark Tank' Navy SEAL plans to unify veterans
SUMMARY
According to the VA, there are 40,056 homeless veterans — and 453,000 unemployed veterans — with 22 veterans a day committing suicide. Navy SEAL veteran Eli Crane believes it doesn't have to be this way. Crane, the founder of Bo…
According to the VA, there are 40,056 homeless veterans — and 453,000 unemployed veterans — with 22 veterans a day committing suicide.
Navy SEAL veteran Eli Crane believes it doesn't have to be this way.
---
Crane, the founder of Bottle Breacher, is a strong advocate for veterans and believes they lack a unifying community, something he hopes to change with a new movement called Long Live the Veteran Brotherhood.
Long Live the Veteran Brotherhood is Crane's movement to unite all veterans in a sense of brotherhood and accountability to each other. Crane says that most veterans underestimate how important it is to associate with other veterans, especially when it comes to the individual's welfare.
His company, a lifestyle accessories brand that gained fame for their unique bottle openers made from recycled bullet casings—and a successful appearance on the Shark Tank TV show—hires a large number of veteran workers and supports both veteran and military non-profits.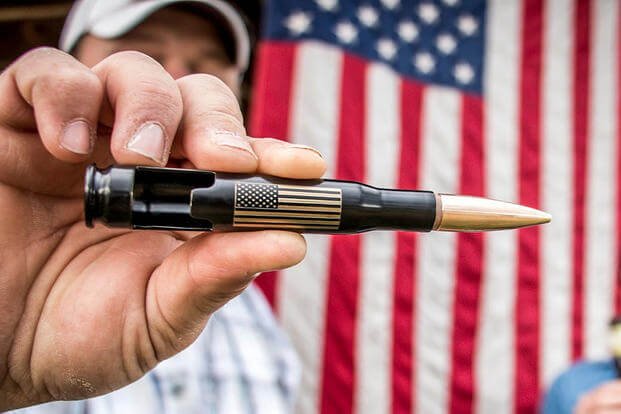 In addition to his commitment to hiring veterans, Crane is also working to solve what he believes is a major issue facing the community.
"One of the worst and most disappointing things that I have seen since I have left the military," Crane says, "is the trash-talking and infighting within the veteran community."
Warriors without a war
According to the Disabled American Veterans, one of the chief contributing factors to veteran suicide is the loss of mission, purpose and community. Crane also succumbed to this when he transitioned out of the Navy. He wanted to leave all the stress and feelings of burnout behind, and was ready to focus on his family—but the idea that he had abandoned something, rather selfishly, kept biting at him.
When Crane connected with other veterans, he found what he had left behind and rediscovered his love of helping others.
"You see, most of us are hard-wired for service," Crane says. "Most of us become hard-wired, while we are active duty, to try to take the load off the back of our brothers and put their needs before our own.
Continue the mission
Veterans are mission-driven and when they are connected to a community of fellow veterans, research shows that it helps with depression, grief, and other psychological conditions. Peer support and motivation is also key to helping people succeed, and has been proven to reduce costs for mental and physical health services—for veterans as well as civilians.
By identifying and acknowledging veterans, Crane hopes that these efforts will build the community that they need to thrive mentally, emotionally, and economically.
He says, "If the majority of us spent more of their time building each other up and helping each other out, you wouldn't see half of the problems you see our veterans struggling with."
Veteran unity
The division between service branches, theater or decade served, rank or lack thereof — these are just some of the things that are used to create animosity among veterans. Things that really don't matter, according to Crane.
"Are we being our brother's keeper? Are we reaching out to those that are struggling to acclimate and transition?" Crane asked.
The common experiences of veterans far outweigh the differences, and it's those commonalities that the community should be focusing on.
To bring these things to light, Crane is asking veterans to share what it means to be a part of the Veteran Brotherhood on social media (see below on how to participate in Long Live the Veteran Brotherhood).
Crane hopes that these efforts will raise awareness of the different ways that the veteran community at large can be proactively involved in supporting the community.
The name of his organization, Long Live the Veteran Brotherhood, comes from a Navy SEAL saying, Long Live the Brotherhood. When he would hear that phrase, Crane felt a deep connection to his team and the greater community that the SEALS represent.
He felt that the veteran community would benefit from a similar message, reminding them that they are also connected to a much larger and just as powerful group.
"At the end of the day, the brotherhood shouldn't end when we take off the uniform," Crane said.
Crane's top transition tips for veterans:
Build a team. It is most likely that like the rest of us you have many weaknesses and are not capable of building anything amazing by yourself. Surround yourself with loyal and talented people who share your values and your mission.
Don't count on anything from anyone. If you're willing to work as hard in the private sector as you did in the military you will crush it.
If you are intending to become an entrepreneur, I highly recommend the side-hustle. That means that you have a full-time gig that pays the bills and you run your start-up on nights and weekends.
Resilience is the most important thing when exiting the service. Like most of us, you will encounter plenty of adversity and hear countless "No's". If you are diligent and give yourself the freedom to fail while applying the lessons learned you will eventually become successful.
Rome wasn't built in a day, and neither will the next chapter of your life. Enjoy the process.
How you can help
Follow this link to learn more about Long Live the Veteran Brotherhood.
Jacob Warwick is the Vice President of Marketing and Communications for LifeFlip Media—a full-service PR agency that helps veteran brands tell their business and military transition stories in a way that attracts customers and helps grow their business.
This article originally appeared on Military.com. Follow @military.com on Twitter.