How DoD is fighting a drug 10K times more powerful than morphine
Ten thousand times more potent than morphine, the drug carfentanil poses a risk to both civilians and warfighters.
---
The powerful opioid, with lethal amounts smaller than a poppy seed, was developed as a tranquilizer for use on large animals and is now part of the illicit drug trade. Easily obtained, concern about weaponization has led researcher Michael Feasel, Ph.D., of the Army's Edgewood Chemical Biological Center, with support from the Defense Threat Reduction Agency's Chemical and Biological Technologies Department, to determine how to treat exposure to the drug.
There is significant interest in opioids and their impact on the population, from the public health crisis of heroin and fentanyl abuse, to events like the Dubrovka Theater siege. According to an article published by researchers at the United Kingdom's Defence Science and Technology Laboratory, carfentanil and remifentanil were the main components used by the Russian government to subdue the terrorists.
Carfentanil activates the body's opioid receptors, depressing the respiratory drive and other central nervous system functions. The anti-overdose drug naloxone (an opioid antagonist) can reverse the effects of the narcotic. However, carfentanil is so potent that larger doses of naloxone may be required to counter its effects. Currently, little research on the effective dosage is available.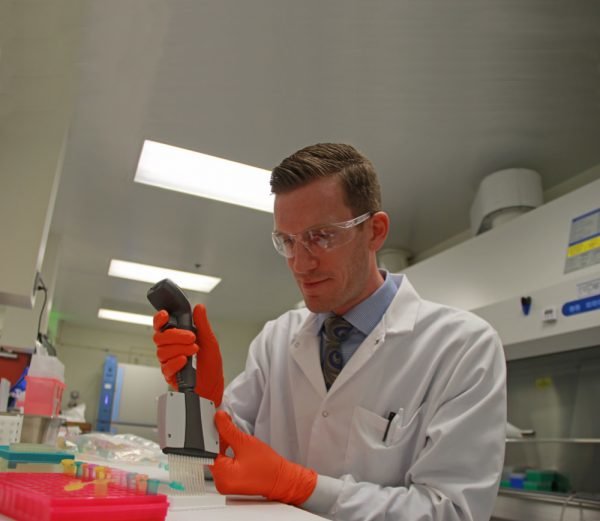 Michael Feasel, Ph.D., ECBC, studies the metabolic effects of carfentanil. (US Defense Department photo)
"Higher potency versions of naloxone are available, however the Food and Drug Administration has not seen a need to get them approved for human use, until now. These ultra-potent opioid exposures are not only a chemical defense issue, but they are also a public health issue," Feasel stated.
Feasel is working to understand the effects carfentanil at the cellular and systemic levels. His work will help determine the dosage of naloxone needed to resuscitate casualties of carfentanil exposure. In collaboration with the National Institute on Drug Abuse, the ECBC scientist set out to identify metabolites in carfentanil using hepatocytes, or human liver cells. Feasel identified twelve metabolites in a 2-D, in vitro platform, which showed slower clearance. This advancement provides insight into the duration of carfentanil's effects on the human body.
The follow-on study uses 3-D spheroids which mimic human liver activity and provide more complex results.
"By using a 3-D subculture we are enabling the access to realistic data," observed Feasel. With conclusions on the research forthcoming, he is continuing to address the issues of chemical and biological defense and public health to develop methodology which can be applied to relevant compounds.
In fact, his research is so pivotal that Chemical & Engineering News, a publication from the American Chemical Society, recently named Feasel as one of the "Talented 12." Each year, this distinction is given to 12 path-paving researchers and entrepreneurs identified to revolutionize industry and solve global problems.
Feasel's groundbreaking research not only aids the Department of Defense in protecting the nation and our warfighters from emerging chemical weapons, but has broader applicability to the White House initiative for the war on opioids. By finding the proper dosage to treat exposure, strides in research will reduce the impact if a weaponized version is used on the battlefield or in terrorist attacks.