7 rules of medieval knighthood that will make you re-think chivalry
SUMMARY
People say "chivalry is dead" like that's a terrible thing.
People say "chivalry is dead" like that's a terrible thing.
In the popular imagination, chivalry seems to harken back to some mythical era when armored knights rode about the land going on quests, saving maidens, and fighting evildoers.
But chivalry is really a word "that came to denote the code and culture of a martial estate which regarded war as its hereditary profession," Maurice Keen writes in "Chivalry."
He argues that medieval chivalry had a major part in molding "noble values," and, as a result, has had an impact felt long after troubadours and jousting tournaments fell out of fashion. The romantic notion of the daring, pure-hearted knight errant lingers on, even today.
It's difficult to speak broadly about the medieval era in Europe, given that it encompasses several centuries and an entire continent. Generally speaking, however, in many cases, knights and medieval warriors served as a local lord's private military. That meant that sometimes, regional conflicts set a group of armed toughs tearing through the countryside and doing whatever the heck they wanted.
Codes of chivalry didn't take hold in vacuum. There was no uniform "code of chivalry," and those codes that existed were often far more religious in nature than our modern concept of "hold the door for ladies." They also cropped up in part to keep knights and warriors from acting on their worst impulses and attacking or extorting weaker individuals.
Starting in the late 900s and lasting till the thirteenth century, a movement known as the Peace and Truce of God rose in Europe. Basically, the Church imposed religious sanctions in order to halt the nobility from fighting among themselves at certain times and committing violence against local noncombatants. You can think of these as rules for knighthood.
One 1023 oath, suggested by Bishop Warin of Beauvais for King Robert the Pious and his knights, gives us a good sense of some of the unexpected rules warriors might be asked to adopt, in response to their often violent behavior.
It includes some rather unusual injunctions and "illustrates the kind of oath that parties were expected to swear after having been caught breaking the peace," according to Daniel Lord Smail and Kelly Gibson, who edited the sourcebook "Vengeance in Medieval Europe." A main idea behind the movement was to use spiritual sanctions to give people a break from all the conflict and fighting that plagued certain areas at some points during the Middle Ages.
With that in mind, here are some of Bishop Warin of Beauvais' proposed rules for knights, which indicate some truly bad and largely unchivalrous behavior on the part of medieval warriors:
1. Don't beat up random members of the clergy
Bishop Warin of Beauvais barred knights from assaulting unarmed clerics, monks, and their companions, "unless they are committing a crime or unless it is in recompense for a crime for which they would not make amends, fifteen days after my warning."
Gunald of Bordeaux also condemned anyone who "attacks, seizes, or beats a priest, deacon, or any other clergyman who is not bearing arms — shield, sword, coat of mail, or helmet — but is going along peacefully or staying in the house," according to Fordham University's medieval sourcebook.
Instead of formally cursing the offenders, Gunald vowed to excommunicate any attackers "unless he makes satisfaction, or unless the bishop discovers that the clergyman brought it upon himself by his own fault."
2. Don't steal livestock or kill farm animals for no reason
The oath includes an injunction against making off with bulls, cows, pigs, sheep, lambs, goats, donkeys, mares, and untamed colts.
Photo from Wikimedia Commons
It also came out against seizing mules and horses at certain times of the year: "I will not exact by extortion mules and horses, male and female, and colts pasturing in the fields from the first of March to All Souls' Day, unless I should find them doing damage to me."
However, the bishop of Beauvais allowed that knights could kill villagers' animals if they needed to feed themselves or their men.
In Gunwald's proclamation, he also announced that any knight who robbed a poor person of a farm animal would be formally cursed.
3. Don't assault, rob, kidnap, and torture random people
This rule should have probably gone without saying, but Bishop Warin of Beauvais felt that he needed to include it in the oath.
The bishop wanted knights to swear against mistreating male and female villagers, sergeants, merchants, and pilgrims. This abuse he cited included robbery, whipping, physical attacks, extortion, and kidnapping for ransom.
4. Don't burn down or destroy houses unless you have a good reason
Arson was a big no in the bishop of Beauvais's oath — for the most part.
Exceptions were made in the event a knight discovered "an enemy horseman or thief within" a certain house.
That sounds harsh, but Kaeuper writes that, while wrath was a sin, "vengeance is a cornerstone of the chivalric ethos, the harsh repayment justly given for an dimunition of precious honor."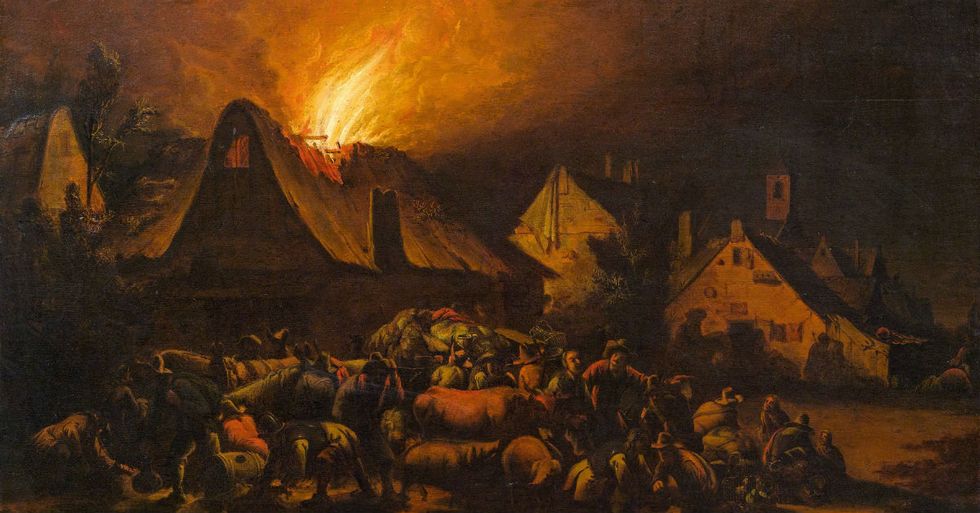 "Nocturnal fire" by Egbert van der Poel (1621–1664)
Knights were also warned against plundering and stealing from the poor, even "at the perfidious instigation" of a local lord.
Kaeuper cite's Alan of Lille's declaration that knights achieved the "highest degree of villainy" by supporting themselves by looting from impoverished people.
5. Don't assist criminals
Knights had a bad rap in certain parts.
Kauper writes that Alan of Lille once said that knights had the "cruel nature of marauders" and that "soldiers have been made the leaders of pillaging bands; they have become cattle-thieves."
Considering such a borderline criminal element, it's not surprising that the Bishop Warin of Beauvais wanted knights to swear not to harbor and assist any "notorious public robber."
He allows that, if a criminal comes to a knight for protection, that the knight should either make amends for the wrongdoer, force him to make amends within fifteen days, or deny him protection.
6. Don't attack women — unless they give you a reason
The oath included a stipulation telling knights not to assault noblewomen traveling without their husbands. It also expanded protection to those attending them, along with widows and nuns, in general.
However, this shield was revoked if a knight "should find them committing misdeeds against" him.
7. Don't ambush unarmed knights from Lent to Easter
A major part of the Peace and Truce of God movement was declaring that fighting should not take place during certain parts of the year.
Yale Law School's Avalon Project features a 1085 decree from Emperor Henry IV, which declares that peace should be observed every Thursday, Friday, Saturday, and Sunday, on apostles' feast days, and from the ninth Sunday before Easter until the eighth day after Pentecost, among other times.
In a similar vein, Bishop Warin of Beauvais ordered medieval warriors not to attack unarmed knights "from the beginning of Lent until the end of Easter."