Seven decades ago, Army 1st Lt. Ralph Puckett knew his outnumbered Ranger Company had to defend a hill in northern Korea against hundreds of determined Chinese infantry.
In below-freezing temperatures, Puckett led the men of the 8th Ranger Company to repel five enemy assaults against their perimeter on Hill 205. He was wounded three times but still managed to call in artillery on the enemy shortly after the position was overrun.
For his bravery on Nov. 25-26, 1950, President Joe Biden will upgrade the 94-year-old retired colonel's Distinguished Service Cross to the Medal of Honor. The news was first reported by The Washington Post.
Biden called Puckett at home in Columbus, Georgia, on Friday to tell him of his decision to approve the award, John Lock, a retired Army officer who began petitioning the service in 2003 for reconsideration of Puckett's actions, told the Post. Lock confirmed this to Military.com Monday.Advertisement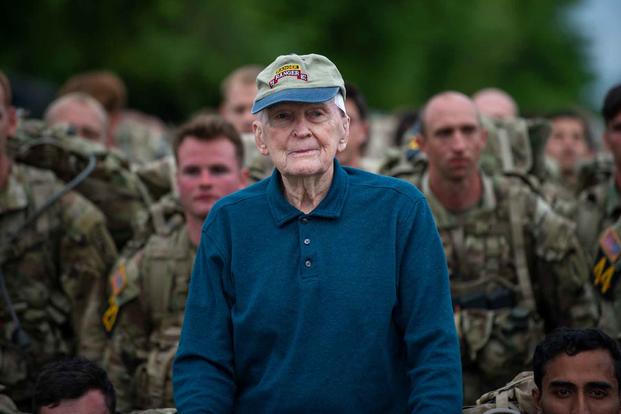 Puckett led his 51 Rangers and 9 South Korean soldiers across 800 yards of frozen rice paddies to seize the enemy-held "Hill 205" on Nov. 25, he described in an oral history project on witnesstowar.org.
"We came under mortar and machine gun fire as soon as we jumped off the tanks which had carried us from behind [another] hill out onto the rice paddy," Puckett recalled.
During this operation, he "deliberately exposed himself to enemy machine-gun fire" so his men could spot the weapons' locations, according to Puckett's Distinguished Service Cross citation.
Once the company seized the hill, the unit immediately prepared to defend against enemy counterattack from any direction.
"We always defended 360 degrees because we were always alone," Puckett said in the oral history. "Tonight was to be no different; the closest U.S. Army unit was over a mile away, so we've got to look after ourselves.
"We were hit by a mortar barrage and automatic weapons fire and, shortly thereafter, a shower of hand grenades," he said. "I called in artillery, got artillery … and that stopped the assault."
The Rangers took casualties, including Puckett, who was wounded in his right shoulder. Refusing evacuation, he continued to direct his company through "four more counterattacks by a numerically superior force who advanced to within grenade range before being driven back," according to his citation.
Puckett's Rangers put up a stiff fight, but he also credited the artillery support they received.
"It saved our necks. … We were getting more and more pressure; we had more and more people wounded," Puckett said.
At roughly 2:30 a.m. Nov. 26, the Chinese bugles again blasted through the darkness.
"I ran back to my foxhole and called for artillery, but the artillery officer said, 'I can't give it to you,'" Puckett said. "They were firing another mission. I said, 'We have got to have it. … We are under great pressure. We are crumbling. We are being overrun.'"
Puckett was hit a third time and could no longer move.
Realizing that his company was about to be overrun and forced to withdraw, he ordered his men to leave him behind, according to the citation.
"Despite his protests, he was dragged from the hill to a position of safety," it adds.
At the bottom of the hill, three tanks had come up but could not attack the enemy on the steep incline, Puckett recalled.
"I called for an artillery concentration with … white phosphorus and high explosive on top of the hill," said Puckett, who was then loaded on the tanks and taken for medical care.
Following the Korean War, Puckett served for two years in the U.S. Army Infantry School Ranger Department. He would go on to earn a second Distinguished Service Cross while serving in the Vietnam War. His other decorations and awards include two Silver Stars, three Legions of Merit, two Bronze Stars, the Commendation Medal, 10 Air Medals, and five Purple Hearts, according to his Association of the United States Army bio.
Over the years, Puckett, who retired in 1971, also became a respected mentor and "honorary colonel" for the 75th Ranger Regiment, according to the Post.
Puckett's wife, Jean, told the paper that she hopes Puckett, who has health problems, will be able to receive the Medal of Honor.
"He is not the one who has been pushing it. It has been John and our immediate family, who want him to be able to receive it personally if he is going to be awarded that medal," she told the Post, describing how her husband "felt the Distinguished Service Cross was honor enough."
During the oral history, Puckett said he is still amazed that his small unit was able to stand against such a large force that night in Korea.
"How did that very small group do so well against what was officially estimated to be several hundred enemy soldiers?" Puckett asked. "They were highly skilled and physically, mentally, morally tough. Good training is the basis for success; without it, you're not going to make it."
This article originally appeared on Military.com. Follow @militarydotcom on Twitter.