Articles
Sep. 08, 2015 09:49AM EST
These artists create awesome vintage-style military posters
Like many Air Force pilots, Nick Anderson is enamored with the planes he flew. He is an ROTC graduate from Oregon State University but his lifelong passion started in the creative arts. Unlike most Air Force pilots, his first love became his full-time career. What started as a way to decorate his office now decorates homes and offices all over the world.
---
"When we started, my Mom would literally copy and paste shipping addresses into a poster printing site," Anderson recalls. "She did this manually for every single order for the first year and a half, I think it was somewhere around 5,000 orders."
Now he and his team average a new poster design every day. It's strange now to see how hard Anderson tried to suppress his creative background, trying to get into Air Force ROTC.
"I remember interviewing with a Lt. Col. for the ROTC scholarship and I had spent a lot of time crafting my resume," he recalls. "One thing that I kind of buried at the bottom was all of my artistic accolades... He made me pull out my portfolio and I sat there for 10 awkward minutes while he silently flipped through it all. I remember being embarrassed thinking 'oh man, he's onto me, an artist is not the type of person the Air Force looks for... I'm going to need to find a new way to pay for college.'  He shut my portfolio and slid it across the table back to me. I started to backpedal and save the interview: 'I was on student council, did sports, I don't plan on doing artwork anymore...' He stopped me mid-sentence and said "Nick, you're exactly what the AF needs, we need people that think different."
With that Anderson was on his way to the Air Force, via a Business degree from Oregon State.
Once in pilot training, he found himself looking for decent art with which to decorate his new office. Like most in the Air Force with a fresh new office, he came up predictably short.
"I was looking for something to hang in my office with each of the aircraft I've flown so far," he says. "All I could find was the white background side profile photos of aircraft which were extremely boring and not what I envisioned in my man cave."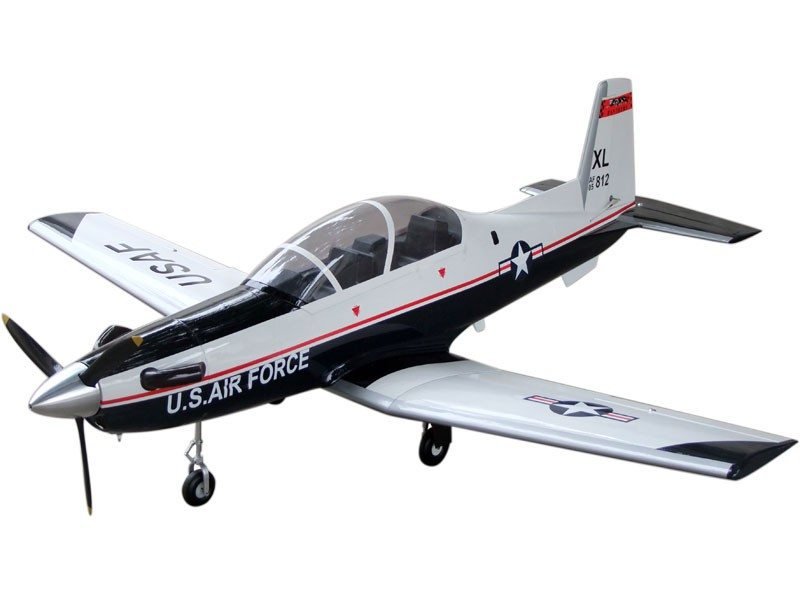 "I remembered those awesome WWII propaganda posters and wondered what happened. The world's most iconic posters are those art deco and vintage-travel-posters. That entire genre has been lost to modern cheesy photoshopping of photos." So Anderson made a poster for himself, designing a T-6 Texan flying over rolling hills, with the text "Vance AFB," his duty station.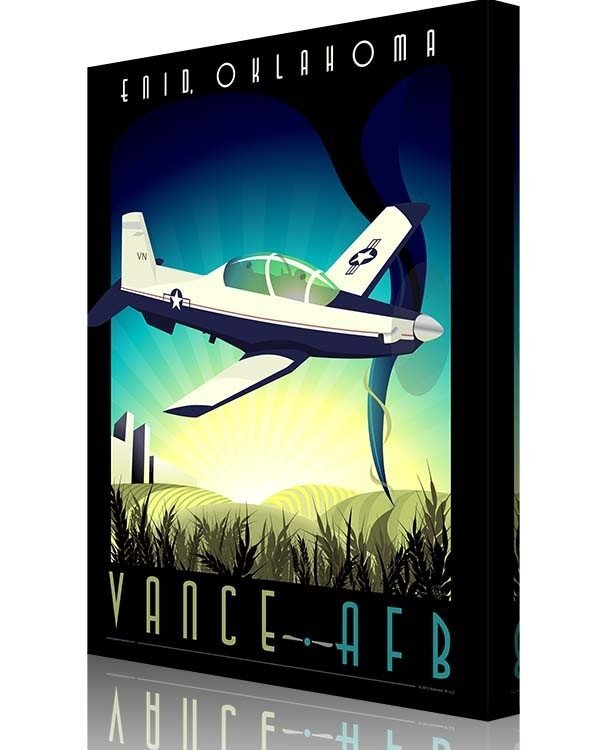 "I loved it," Anderson says. "This is what I could see hanging in my future office, when I showed it to my wife she also thought it was really cool. I made a few more to cover the planes and bases I'd been to so far and I left it at that for over a year." And so, Squadron Posters was in its infancy. Anderson would soon enter graduate school for a business degree. As part of one of his classes, he had to actually start and register a business.
"I remember racking my brain in my office on what I could do only to look up and see the posters," Anderson says. "I immediately registered the website squadronposters.com and uploaded a handful of the designs. The entire thing was very crude and barely functional, but it got the point across." Anderson linked the page to Reddit, where Redditors voted it to the front page. The site received some 10,000 views in the first week.
"Some of my friends started requesting more posters once they saw it," he continues. "I just started making posters for them — I did an F-15E over Afghanistan print for my buddy Lloyd and he bought it. He was our first customer. This is what makes us different, our art represents not just aircraft, it represents adventure and travel."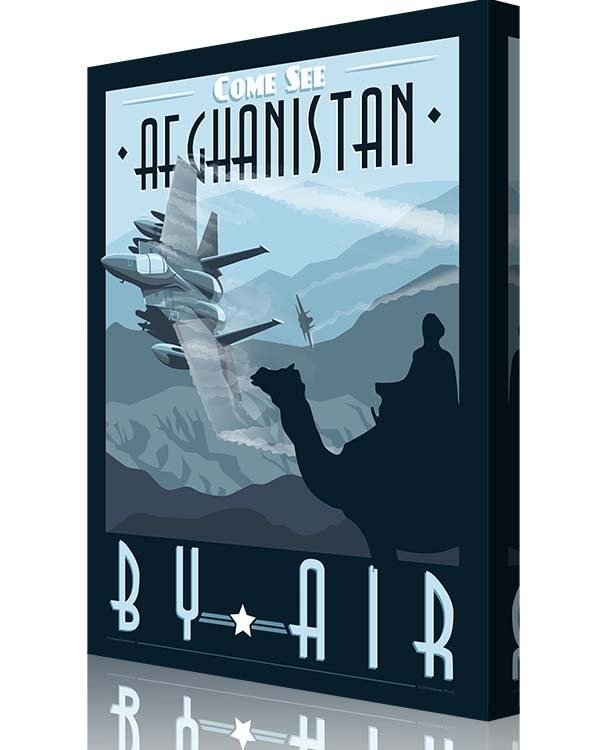 "Since Day 1, we've really had some simple goals," Anderson says. "Our military members do some really incredible things and we want to turn those things into really cool posters, they deserve that. We want our posters to be what Tony Stark would hang in his office. We've created almost 1,000 original designs for hundreds of units and you can see everything: helicopters and fighter aircraft, Submarines in Hawaii, GPS satellites, the SR-71 blackbird, Army Rangers, the Coast Guard's active sailboat, fighter combat missions in Afghanistan and Iraq... the list is so massive you just have to go to the site and spend a few hours browsing, it's really incredible."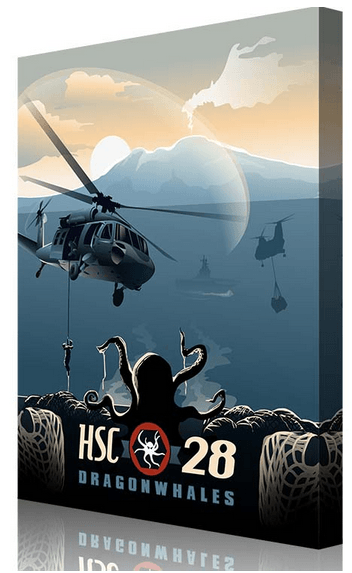 "Immediately after launching we had a very good problem," he says. "We had so many requests there was no way I could do this alone. That's where my buddy said to me one day; 'sounds like you need more artists.' So we went out and found new artists; Max, Sam, Sergio, Steve and almost a dozen other artists have joined the team. These are world class artists and we attracted them by offering royalties for life and guaranteed payout for new art pieces. They also get creative freedom to make anything they think that might be cool and we guarantee to pay them for those as well. This is how we stay relevant and keep refreshing the site."
"We've done all this without ever charging design fees to our customers because who likes fees? If you have an idea for a new poster, our team of artists will make it happen. The response from the community has been amazing, I can't even begin to describe the amount of times people have relied on us for retirement ceremonies, going aways, deployment welcome homes, spring office remodeling projects, birthdays, Christmas etc. It's very humbling and inspiring to think that thousands of walls around the world now have our artwork hanging there."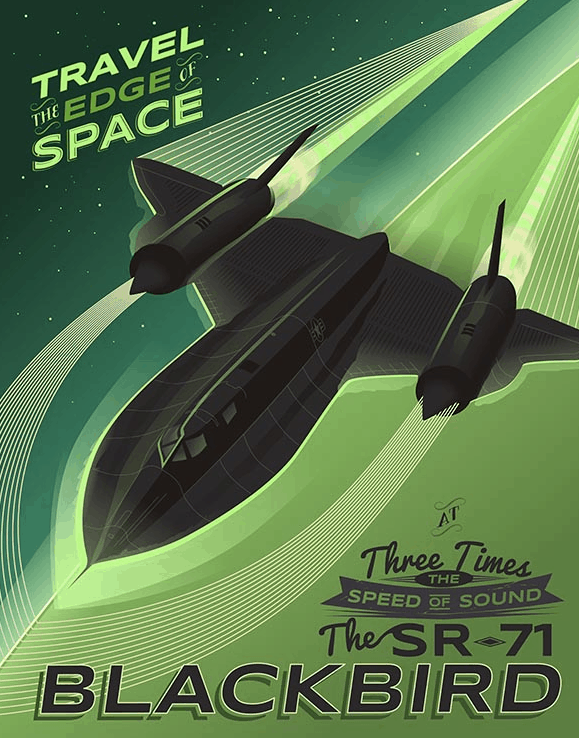 "If you go to our site it looks very polished like what you'd see from a big company, but if you call our phone my dad answers, we're still a small family business."