Articles
Dec. 12, 2016 09:21AM EST
This is how a military death can affect generations of families
A U.S. Air Force C-124 Globemaster II on its way to Elmendorf Air Force Base, Alaska, crashed into Gannett Mountain in November 1952, killing all 52 service members on board.
---
The wreckage of the crash was found but was soon covered by deep snow — the remains of those aboard lost to the world for the next 60 years.
The wreckage site of the C-124 Globemaster is only accessible by helicopter for about two weeks in June. It has been carried by Alaska's Colony Glacier some 16 kilometers from Mount Gannett where the crash occurred. The glacier is slowly pushing into Lake George, where the remains and wreckage embedded in it could be lost. (U.S. Air Force photo by Tech. Sgt. John S. Gordinier)
Now the slowly melting ice and snow has uncovered the wreck of the doomed Military Air Transport Service plane. It was found two miles away from the spot of the crash, slowly moved over the years by the receding Colony Glacier.
"The glacier essentially held these things in a capsule," Elizabeth Feeney, a spokeswoman for the Joint POW/MIA Accounting Command, told the Los Angeles Times. "Many of the things that we get back are easily identifiable."
JPAC has since recovered the remains of 31 of the missing 52 passengers and crewmembers from the Gannett Mountain Crash.
This includes Col. Noel Elmer Hoblit, whose remains were returned to his family in 2012. Hoblit was buried with full military honors at Arlington National Cemetery.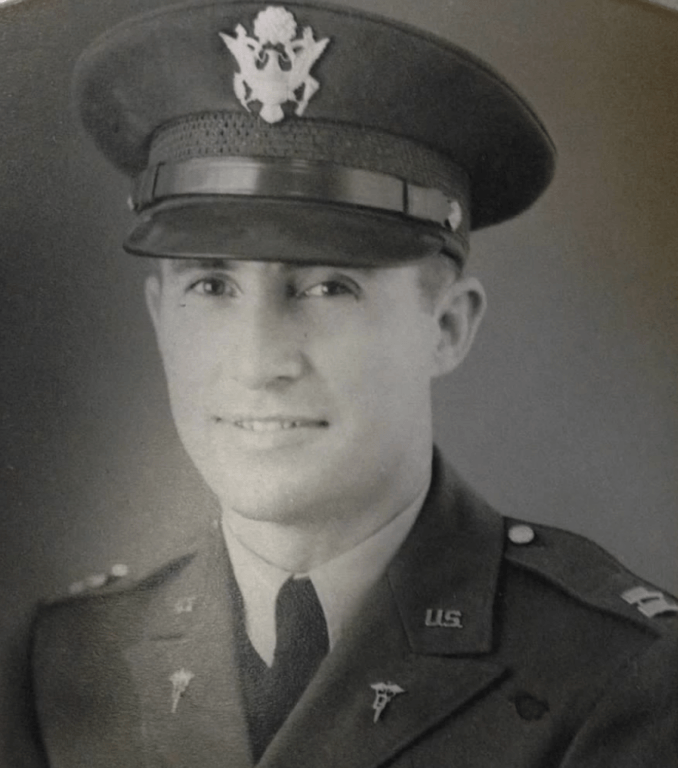 Then-Capt. Noel Hoblit, U.S. Air Force.
Hoblit's granddaughter, Heidi Noel Hoblit-Graham, says her grandmother, Virginia, and her family were never the same after the crash.
"My grandmother was, towards the end of her life, an alcoholic," Graham recalls. "The crash gave her post-traumatic stress and she became a different woman."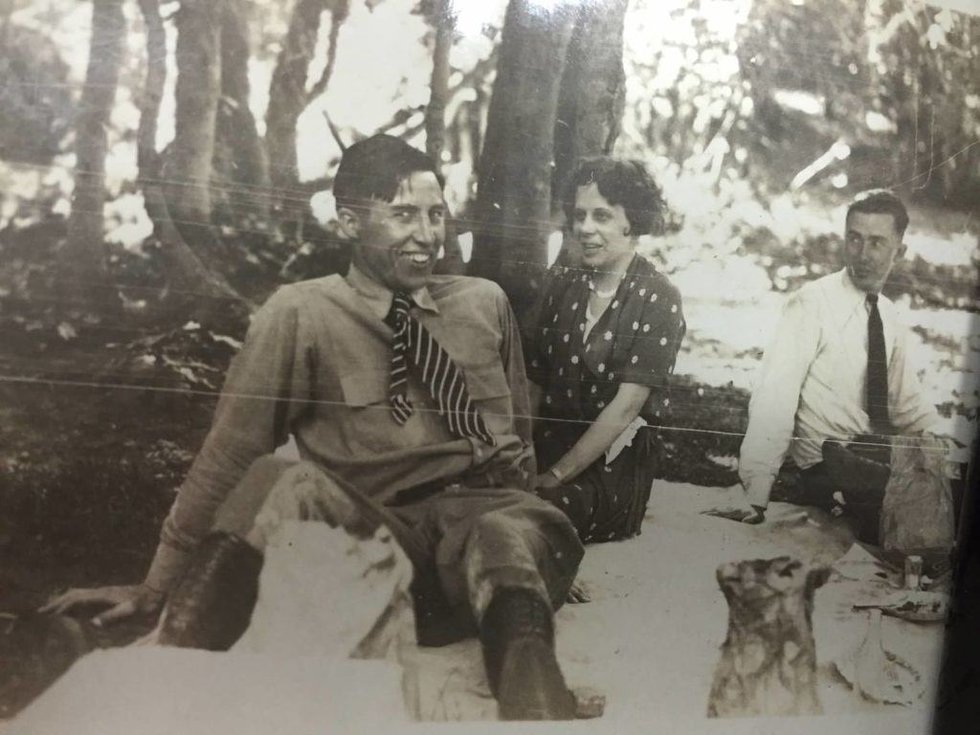 Noel and Virginia Hoblit in the 1930s. Noel once wrote to Virginia, "There would be far more contentment and happiness in the world if everybody loved this way."(Photo provided by Heidi Hoblit-Graham)
Both of Graham's grandparents were 45 at the time of the crash. Heidi Graham eventually found a box of letters her grandfather sent to her grandmother. The box also included jagged newspaper clippings, hastily cut out and put away.
"It was life-changing to read through these love letters, through every newspaper article that my grandmother saved," Graham says. "Maybe she felt like she had to to save the memory but couldn't go back and face it herself. Maybe she thought she would be able to one day, but she just never did."
She never remarried, never even dated again.
Hoblit's remains were buried on what would have been his wedding anniversary. Two of his sons, retired Air Force Col. Jerry Hoblit and retired Air Force Lt. Col. Fred Hoblit — who joined the service because of their father's legacy — were at Arlington to receive his flag.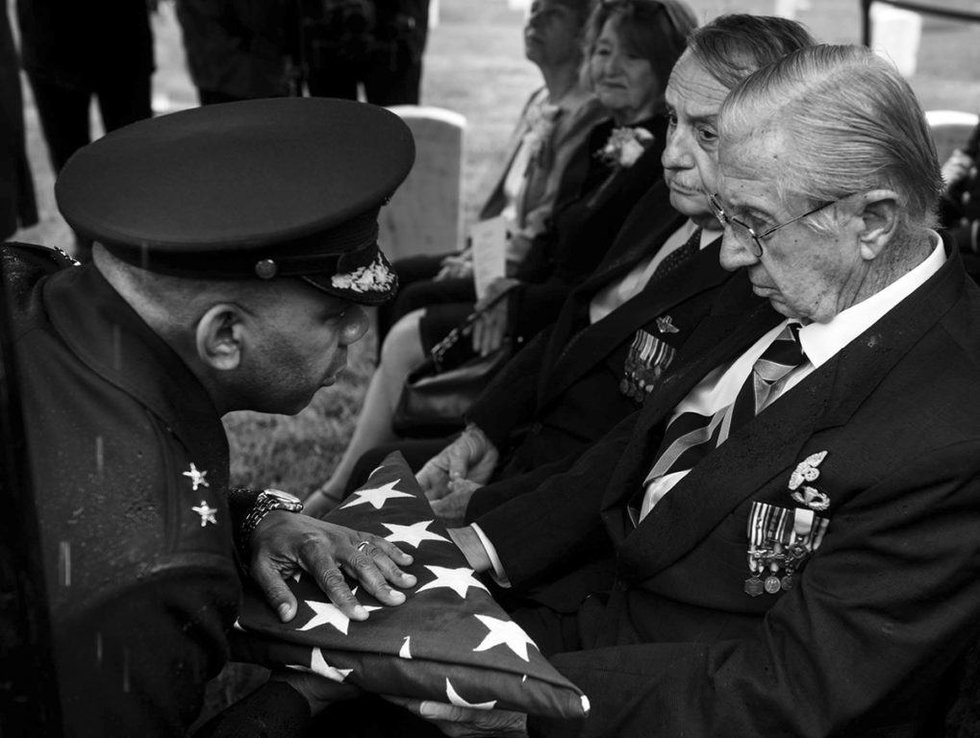 More than 100 family members, friends and military service members gather to remember U.S. Air Force Col. Noel Elmer Hoblit during a funeral on May 21, 2015, at Arlington National Cemetery. Col. Hoblits two sons, U.S. Air Force Col. Jerry Hoblit and Lt. Col. Fred Hoblit, remembered the life of their father during a funeral with family and friends at the Arlington National Cemetery.
"My dad has early stages of dementia and he knows it," Graham says. "He just turned 80, he knows that he's not quite firing on the same really high intellect that he once did. He asked me to be his person to help plan this stuff."
It was an emotional experience for the two sons. Their father had a grave marker at Arlington National Cemetery for years. Then their mother was interred there. Now they're finally in the same place.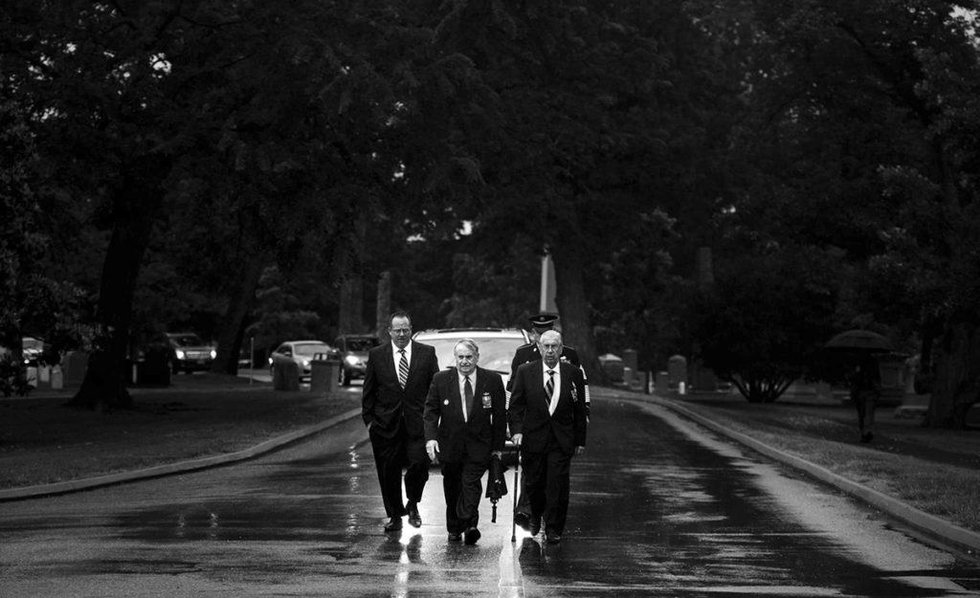 Col. Jerry Hoblit and Lt. Col. Fred Hoblit at the funeral of their late father, Col. Noel Elmer Hoblit on May 21, 2015, at Arlington National Cemetery. (U.S. Air Force photo by Staff Sgt. Vernon Young, Jr.)
"I think that that was an important thing for my dad," Graham says. "I think my uncle was so broken from having lost his father that I don't think he's ever really recovered."
Many families have since been reunited with their loved ones' remains since the glacier started to recede in 2012. But time is running out for the families of the nearly two dozen remaining crewmembers and passengers.
The wreckage is moving into a 600-foot-deep lake. Once the wreck is in the lake, the rest of the bodies will not be recoverable.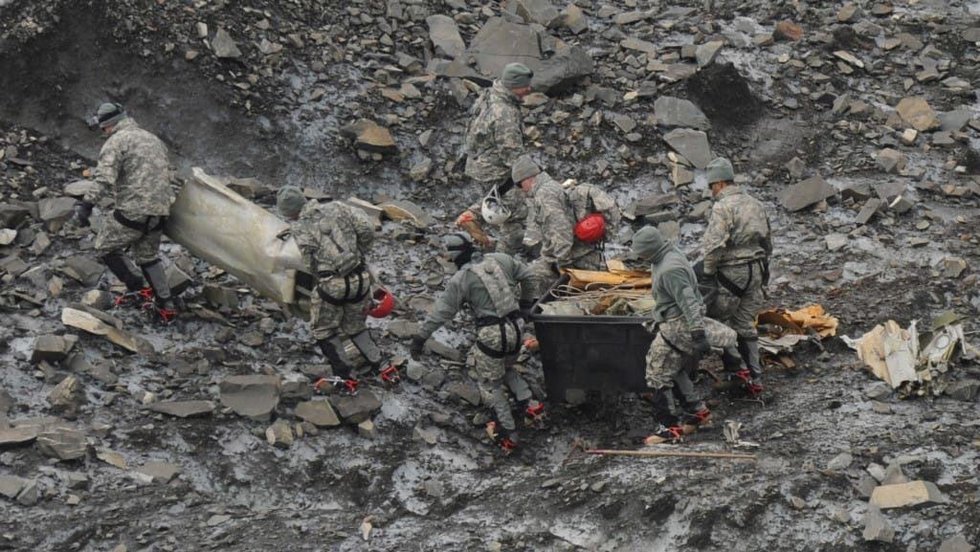 A Joint Task Force-Alaska Team from Joint Base Elmendorf-Richardson and Fort Wainwright recovers debris on Colony Glacier near Anchorage, Alaska, on July 12, 2012. (U.S. Air Force photo)
"The lake is too deep," Graham says. "They don't have the technology to be able to go that deep and get the remains and because it's moving, they're only able to go up there for two weeks out of the year in the summer to find remains."