Articles
March 31, 2016 14:07:37 EST
We see a lot of FLIR footage showing bad guys blowing up, but what really goes into schwacking ISIS on a regular and persistent basis?  Here's a quick look at the life of a bomb from birth to boom.
---
1. After the bomb is manufactured it is trucked to a military ammo depot.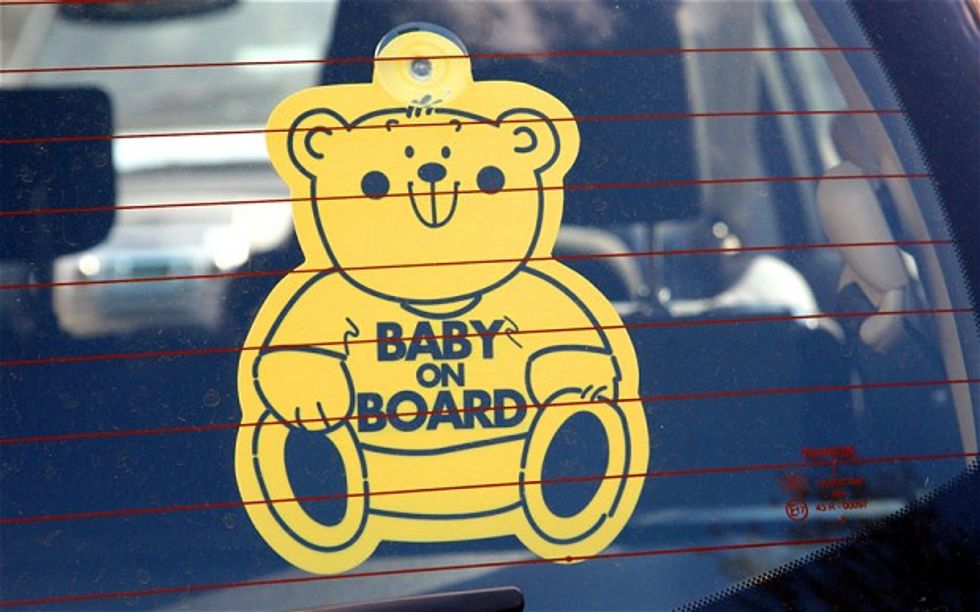 2. When the aircraft carrier is ready to go to sea, it loads some of the ordnance -- tailored for the planned mission -- pierside.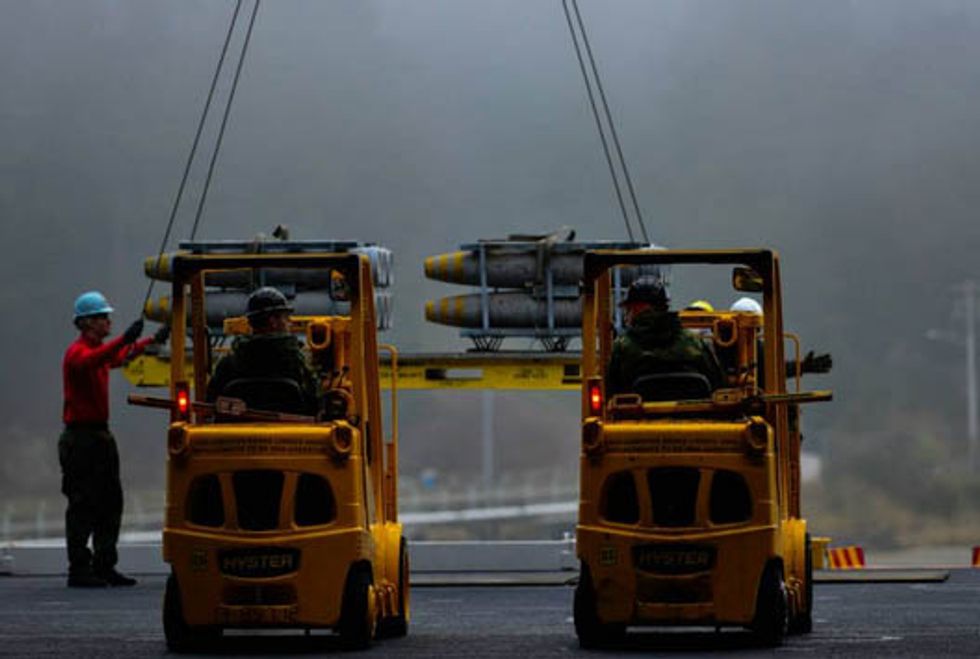 3. The rest of it is loaded closer to the war zone using underway replenishment.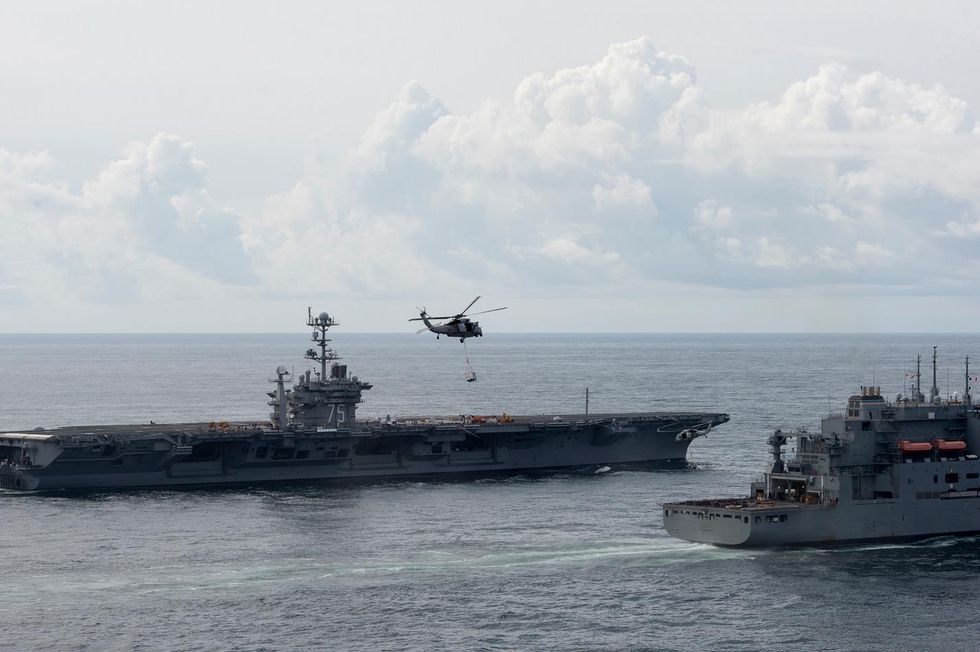 USS Harry S. Truman (CVN 75) in the middle of an ammo onload (using both vertrep and unrep). (Photo: U.S. Navy)
4. As the aviators plan the strikes in the carrier's intelligence center, the "ordies" in the magazine many decks below build the bombs they've requested, adding the appropriate fin kits and fuses to the bodies of the weapons.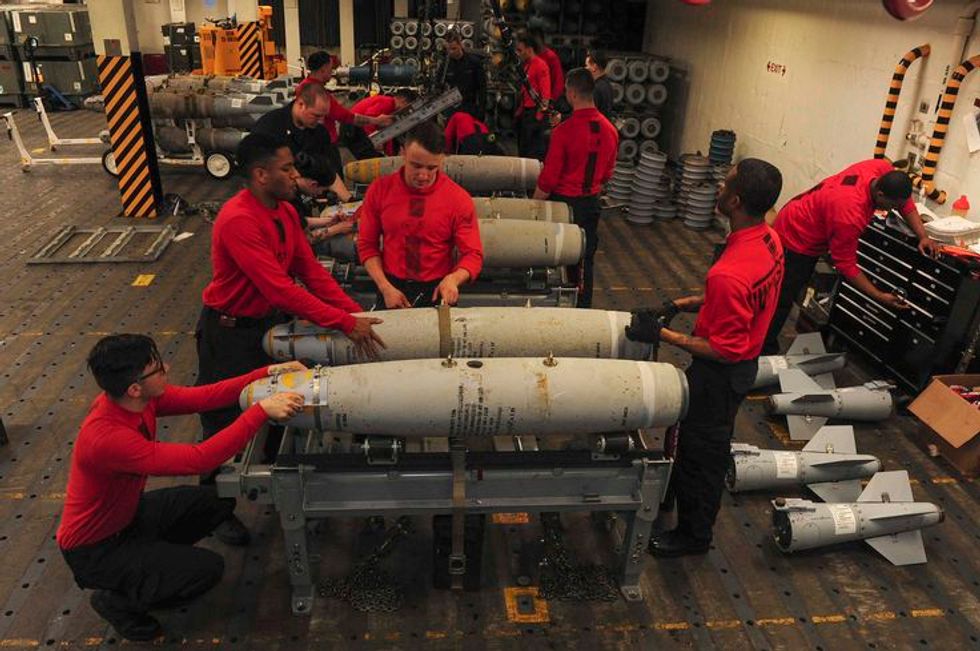 5. Once built, the bombs are wheeled to the ordnance elevator and taken up to the hangar bay.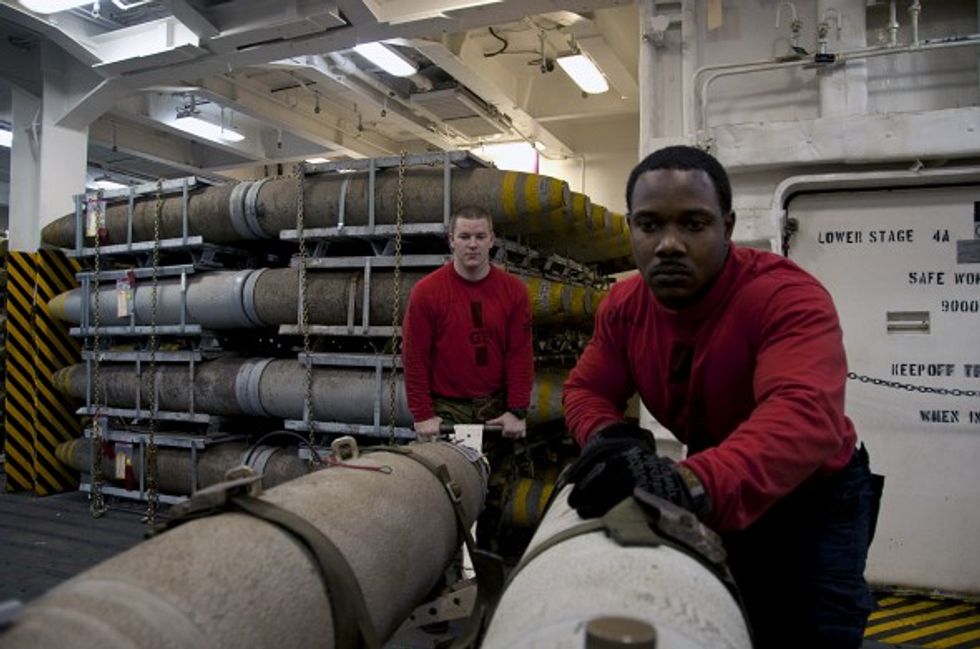 6. The bombs are inventoried and then taken to the flight deck and staged behind the carrier's island.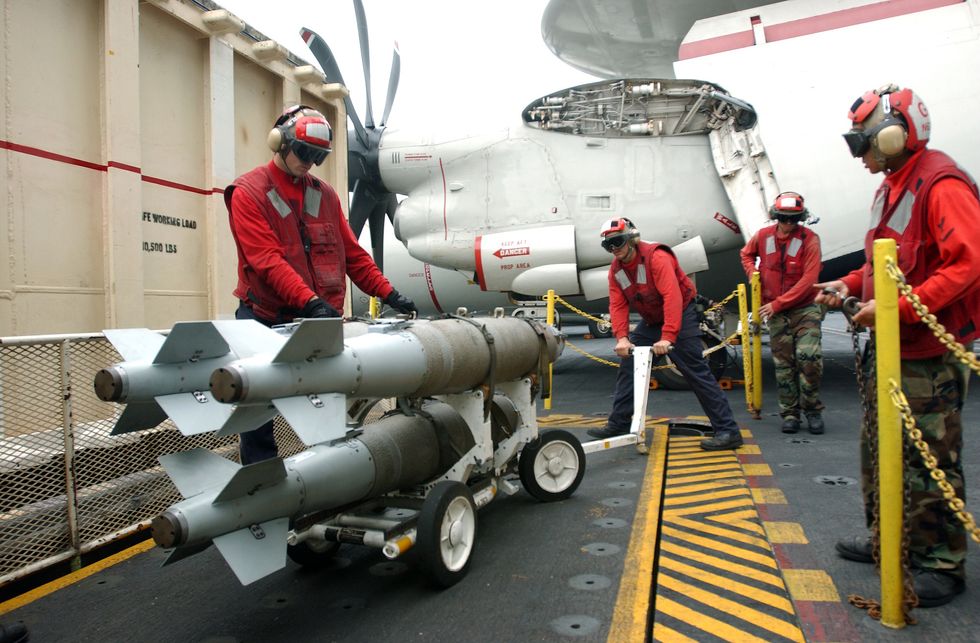 (U.S. Navy photo by Photographer's Mate Airman Stephen Early)
7. As launch time approaches, squadron ordies wheel the ordnance to their jets.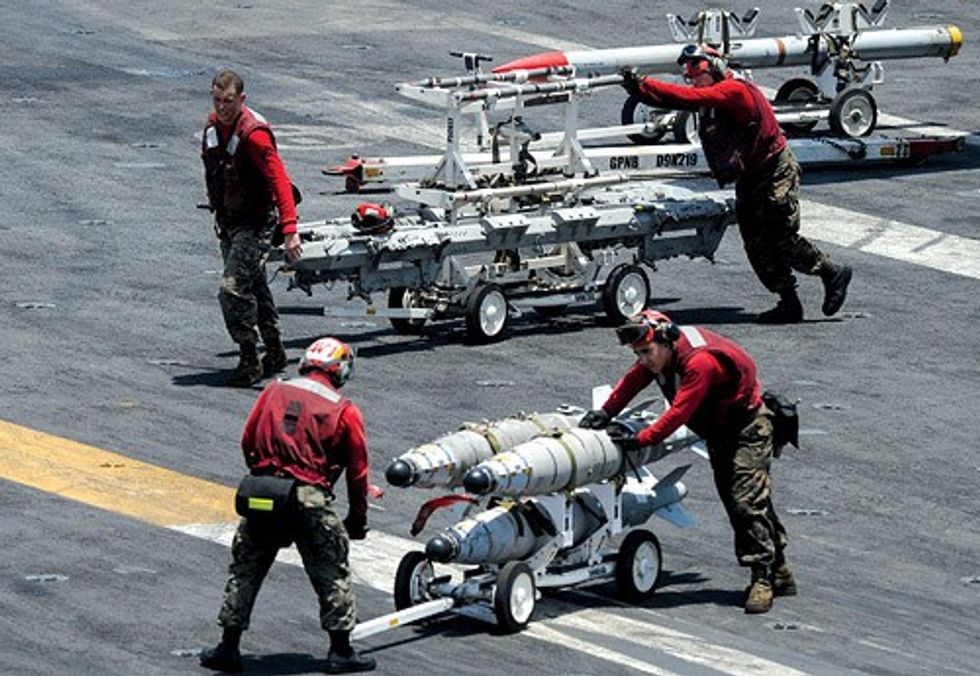 (Photo: U.S. Navy/Mass Communication Specialist Seaman Apprentice Kelly M. Agee)
8. Bombs are uploaded onto the airplane's weapons racks using good ol' fashioned muscle power.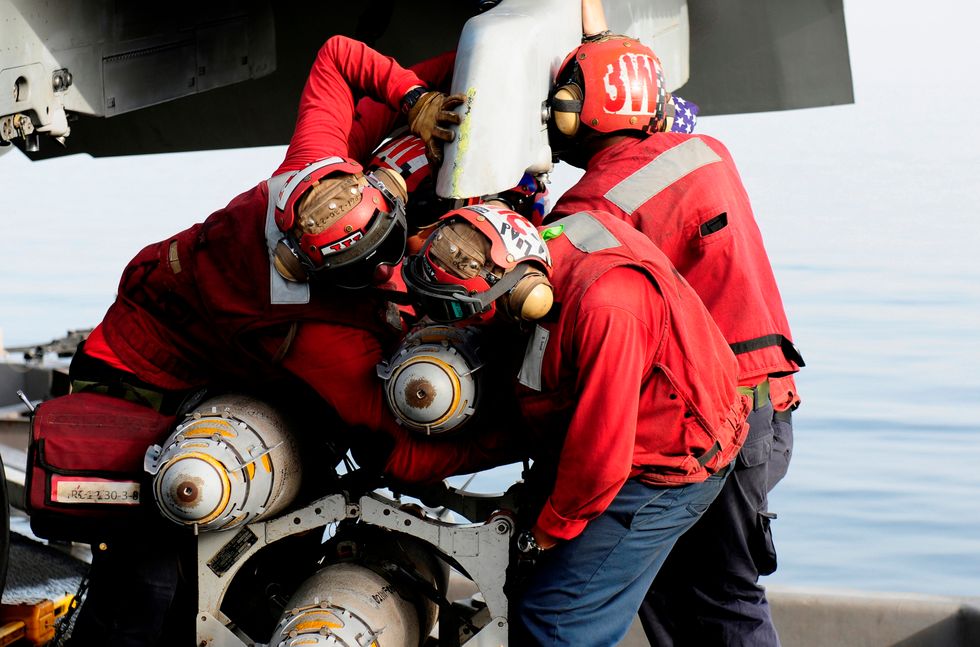 (Photo: U.S. Navy/Mass Communication Specialist 3rd Class Tim D. Godbee)
9. Aircrew check with the ordies to make sure everything's good-to-go before cranking the jets up for launch.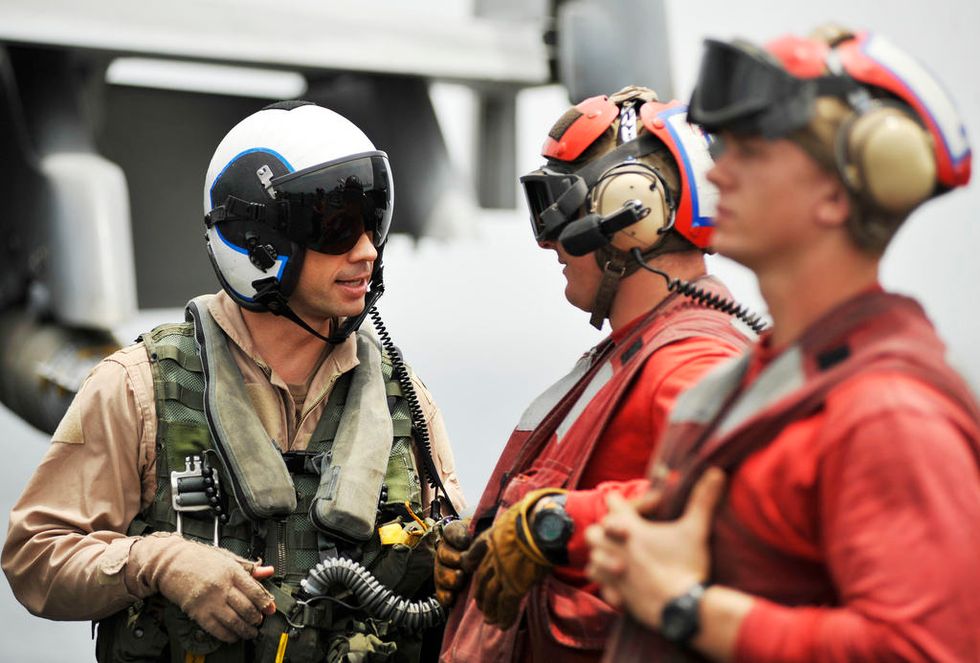 Cmdr. Chad Vincelette, executive officer of the Swordsmen of Strike Fighter Squadron (VFA) 32, speaks with an aviation ordnanceman aboard the aircraft carrier USS Harry S. Truman (CVN 75) before his flight to support Operation Enduring Freedom. (Photo: U.S. Navy/Mass Communication Specialist 2nd Class Kilho Park)
10. Once the jet is positioned on the catapult for launch, pilots show their hands above the canopy rail while ordies pull the arming pins.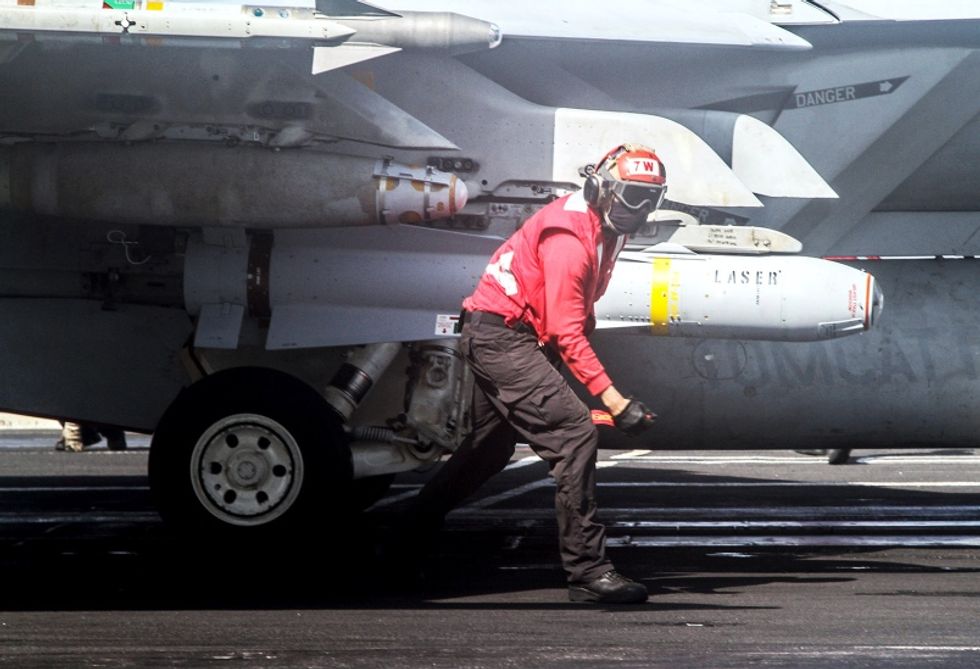 Ordie pulls the pin arming a laser Maverick hanging from an F/A-18 Super Hornet. (Photo: U.S. Navy)
11. Launch 'em!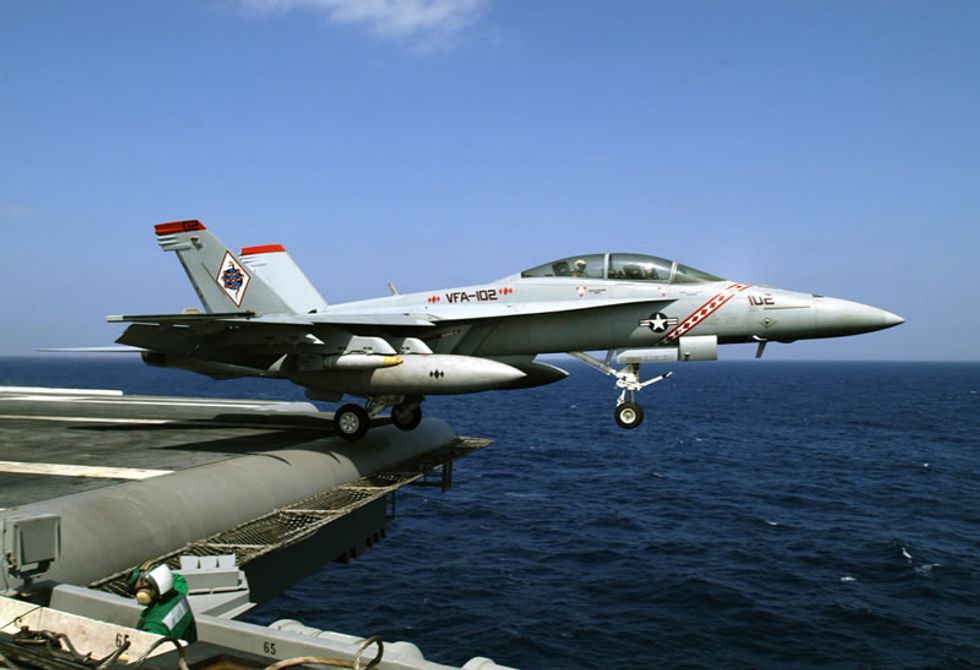 An F/A-18F assigned to the VFA-102 "Diamondbacks" launches from USS George Washington (CVN 73) (Photo: U.S. Navy)
12. "Pickle, pickle, pickle . . ."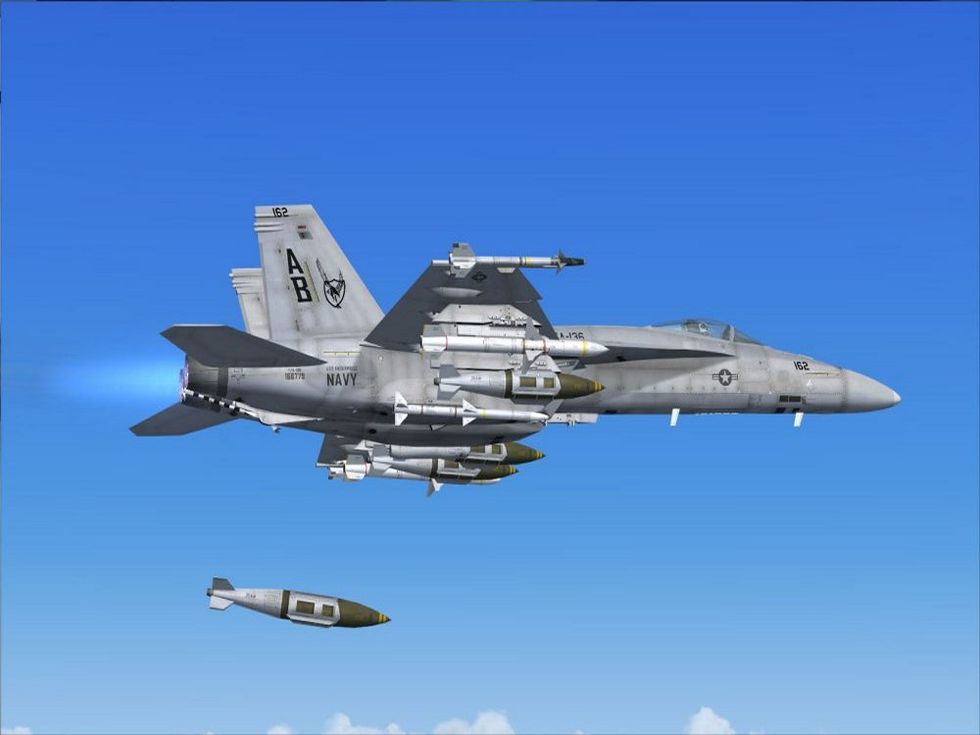 An F/A-18C (also loaded with Sidewinder and AMRAAM air-to-air missiles and HARM anti radar missiles) dropping a 1,000-pound bomb. (Photo: U.S. Navy)
13. Special delivery for Mr. ISIS!