Articles
March 31, 2017 12:50:24 EST
The 11-minute film "Launch 'Em!" plays like "Airplane" or "Hot Shots!" It's a spoof of carrier operations that takes jabs at the entire aircraft carrier — with pilots falling down escalators, the skipper blowing smoke through communications tubes, and flight deck personnel falling down aircraft elevators.
---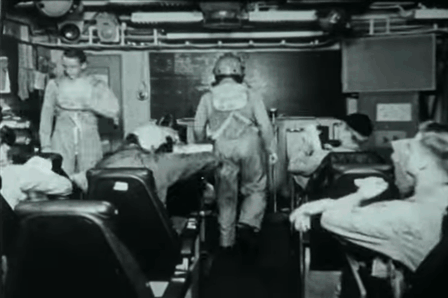 Aviators fight in the ready room in this scene from the probably not factual "Launch 'Em." (GIF: YouTube/San Diego Air and Space Museum)
But unlike "Airplane" or "Hot Shots," "Launch 'Em" was made by the same people the movie is making fun of, Navy aviators and the carrier personnel who support them.
It was filmed on the USS Hancock in the late 1950s and copies now reside in a few libraries across the country, including the San Diego Air & Space Museum which uploaded the below copy to YouTube: