Articles
Dec. 22, 2014 11:07AM EST
The US Navy Has A Real-Life Capt. Kirk — And William Shatner Is A Fan
It had to have been a simultaneously proud and awkward moment in his career: The day U.S. Navy Commander James Kirk got promoted to captain.
---
Of course any Trekkie would know the reason, as the real-life captain shares the name of the fictionalized character played by William Shatner on "Star Trek." But the real Kirk is a serious officer, taking the helm of the futuristic USS Zumwalt (DDG-1000), a ship christened earlier this year.
While he's obviously of no relation to the Capt. Kirk played by William Shatner in "Star Trek," many have had fun with that coincidence. That included Shatner himself, as a photo tweeted by Barbara Zumwalt showed the framed photo and letter he sent to the sailors who will soon be onboard, which is currently on display at Bath Iron Works in Maine.
"Unfortunately I can't be with you when your vessel is commissioned and obviously your captain, Captain Kirk, is dear to my heart," Shatner wrote. "So forgive me for not attending, my schedule won't allow me, but know that you are in our thoughts — Mr. & Mrs. Shatner — and that we bless you and hope that you have a safe journey wherever your ship takes you."
Here it is: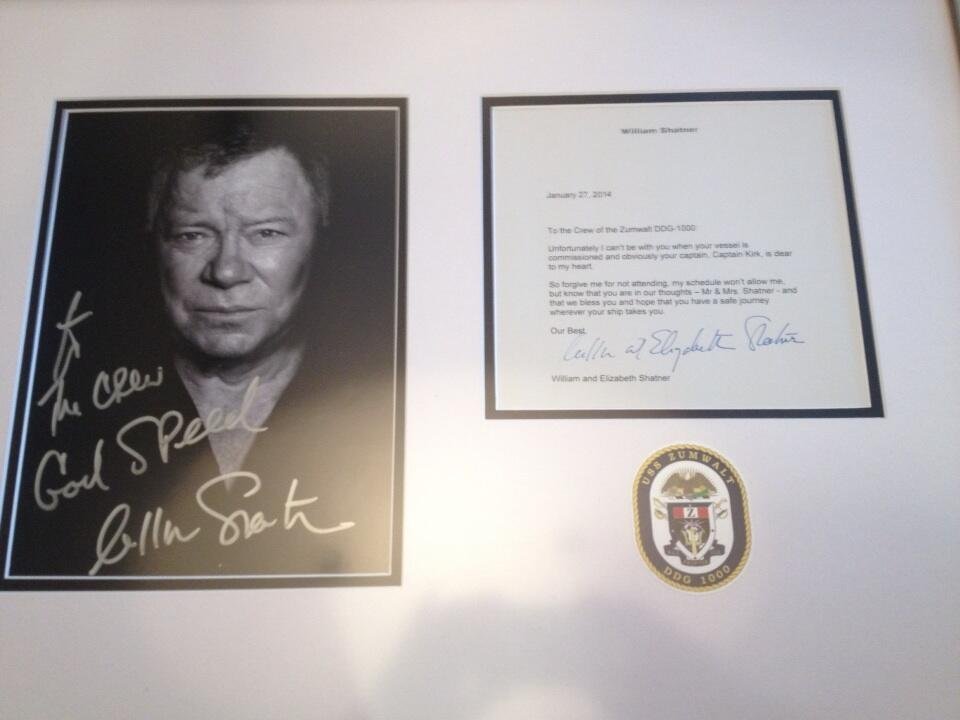 Photo courtesy of Barbara Zumwalt