Articles
Sep. 21, 2015 08:52PM EST
The 6 greatest celebrity foreign policy gaffes in the last 50 years
Sometimes when celebs venture into the complex world of foreign policy -- either intentionally or otherwise -- the results are embarrassing, comical, or even career-ending. Here are six of the worst in recent memory:
---
1. The Beatles barely make it out of the Philippines alive after (unintentionally) snubbing Imelda Marcos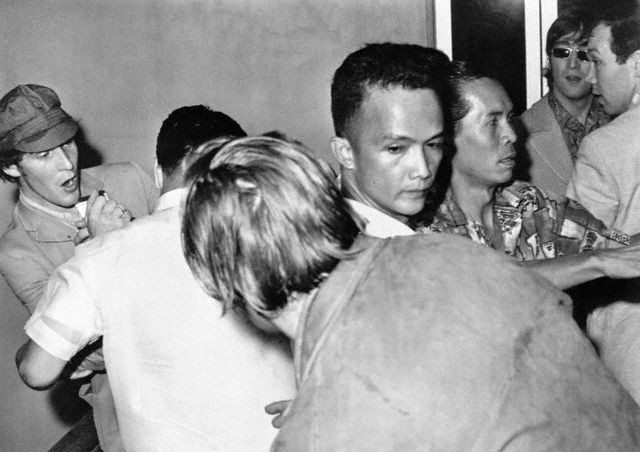 The Beatles attempt to get the hell out of Dodge ... or Manila. (Photo: Associated Press)
In early July of 1966 while The Beatles toured the Philippines they unintentionally snubbed the nation's first lady, Imelda Marcos, who had expected the group to attend a breakfast reception at the Presidential Palace. When presented with the invitation, Brian Epstein politely declined on behalf of the group, as it had never been the group's policy to accept such "official" invitations. But the group soon found out that the Marcos regime was unaccustomed to accepting "no" for an answer. Imelda Marcos was infuriated when finding out that one of her frequent grand parties of 200 guests did not include the Beatles. After the snub was broadcast on Philippine television and radio, all of their police protection disappeared. The band barely made it out of the country alive.
2. Jane Fonda goes to North Vietnam during the war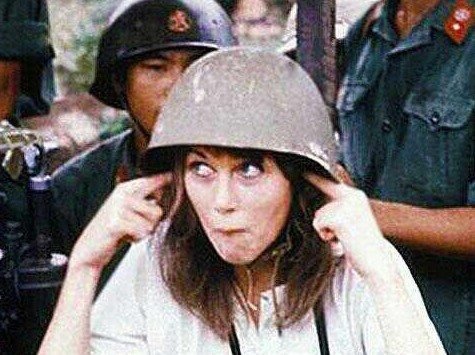 "This visit was a good idea!"
In May of 1972 Jane Fonda was invited to North Vietnam by the delegation at the Paris Peace Talks. She accepted the invitation with the intention of treating the trip like a fact-finding "humanitarian" mission. She wanted to take photos that would expose that the Nixon Administration was bombing the dikes to flood civilian areas. Ultimately the trip had a different effect, mostly because of a photo that emerged of her sitting on an anti-aircraft gun wearing an NVA helmet. From that point forward she's been "Hanoi Jane" to most Vietnam vets.
3. Paul Simon violates Apartheid-related boycott to make "Graceland"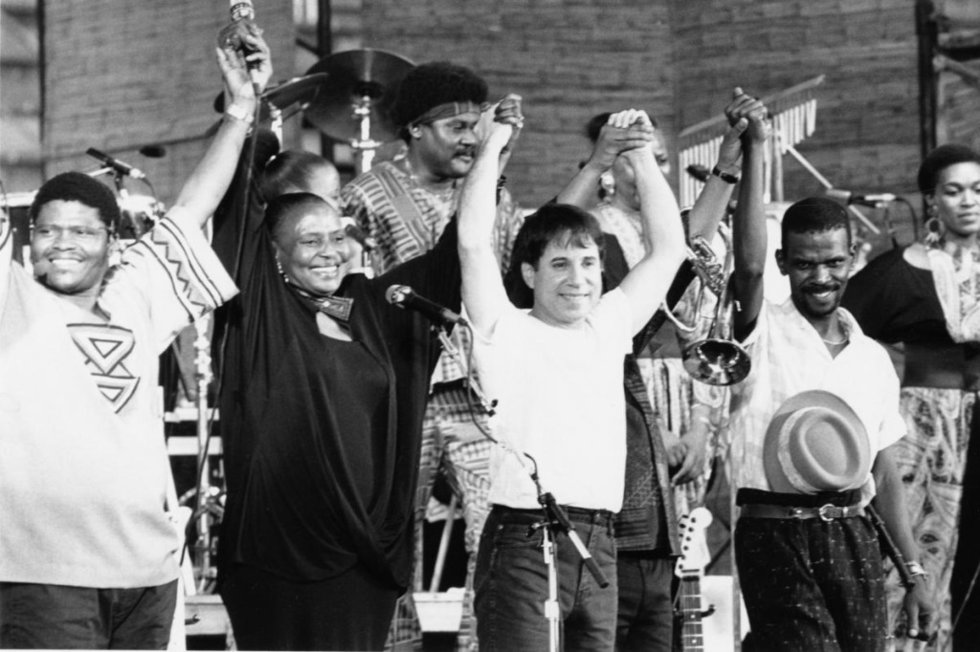 What boycott? Hands up for making some hits!
In the 1980s the anti-Apartheid movement was growing rapidly, gaining support of political leaders and other public figures worldwide. Part of the movement was a boycott of all things South African. Paul Simon basically trampled the boycott by going to South Africa to work with local musicians while recording his legendary "Graceland" album.
Following the album's success, Simon faced accusations by organizations such as Artists United Against Apartheid, anti-apartheid musicians including Billy Bragg, Paul Weller and Jerry Dammers and the then Ghanaian Ambassador to the United Nations James Victor Gbeho that he had broken the cultural boycott imposed by the rest of the world against the apartheid regime in South Africa, which was in its final years at the time.
At an album launch party, Simon bluntly clarified his opinions on the controversy: "I'm with the artists. I didn't ask the permission of the ANC. I didn't ask permission of Buthelezi, or Desmond Tutu, or the Pretoria government. And to tell you the truth, I have a feeling that when there are radical transfers of power on either the left or the right, the artists always get screwed." (Source: Wikipedia)
4. Dixie Chicks commit professional suicide by dissing W in London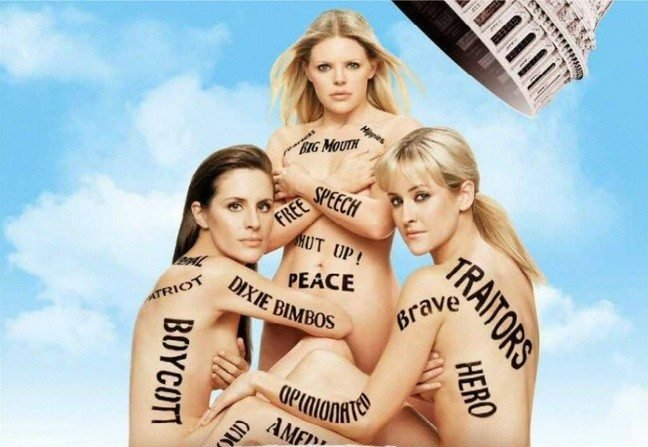 "What? Michael Stipe and Bono say things and nobody gets pissed . . ."
During the run-up to the invasion of Iraq, Dixie Chicks performed in concert in London on March 10, 2003, at the Shepherd's Bush Empire theatre in England. This concert kicked off their Top of the World Tour.
During the introduction to their song "Travelin' Soldier", Natalie Maines said, "Just so you know, we're on the good side with y'all. We do not want this war, this violence, and we're ashamed that the President of the United States is from Texas." The comment ignited a firestorm with country music fans, a generally patriotic bunch, and the Dixie Chicks were blackballed and boycotted by fans, radio stations, and promoters worldwide, which essentially ended the band's career.
5. Mariah Carey sings for Libyan dictator Muammar Qaddafi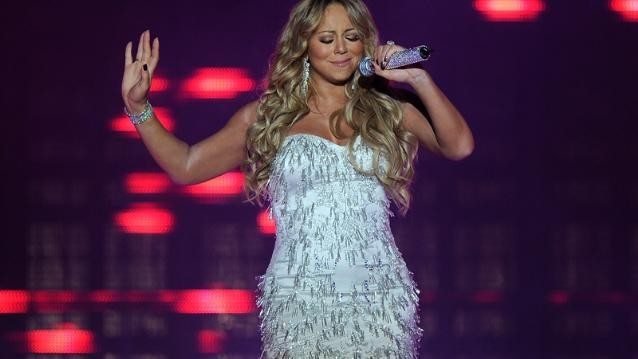 "Your love is like torture, baby. Sing it, Muammar!"
In 2008 Mariah Carey was paid a reported $1 million to play a four-song set for Muammar Qaddafi and his family at their retreat on the island of St. Barts in the Caribbean. After a huge public outcry based on Qaddafi's human rights record and sponsorship of terrorism Carey said she was unaware who she was playing for until it was over and that she felt "horrible and embarrassed."
She didn't give the money back but promised to record a song to raise money for human rights.
6. Dennis Rodman goes to North Korea to hang with dictator Kim Jong-un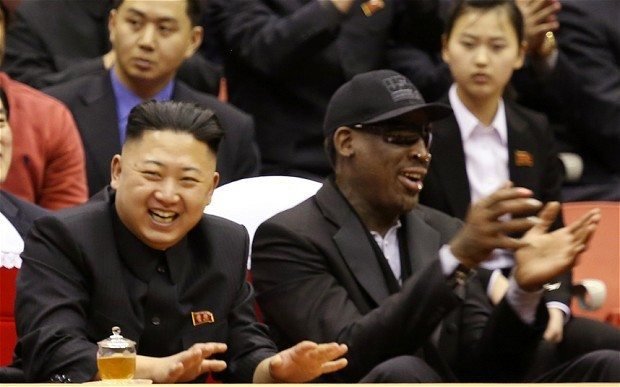 "Can you teach me how to dunk, Dennis? HAHAHA!"
In February of 2013 basketball legend Dennis Rodman visited North Korea as a personal guest of Supreme Leader Kim Jong-un where Rodman presided over a weird basketball game that matched up the North Korean 'dream team' and a rag tag bunch of Americans including a Harlem Globetrotters alum and a journalist from Vice.
When asked if he was aware of Kim Jong-un's barbaric acts toward his perceived enemies (including his uncle whom he had beheaded) and his cruelty to his people, Rodman claimed ignorance while sticking with the notion that Kim was just a friend and a good guy as far as he could see. At the same time Rodman checked back into rehab.