James Armistead was an enslaved African-American man who was born in Virginia. Different historical sources put his birth in either 1748 or 1760. He was owned by William Armistead of New Kent County, Virginia. However, being born into slavery, Armistead would play a crucial role in securing America's freedom during the Revolutionary War.
With his master's consent, Armistead volunteered to join the Continental Army in early 1781. He was placed under the command of the Marquis de Lafayette who saw his potential in specialized military service. Posing as a runaway slave, Armistead was sent to link up with Brigadier General Benedict Arnold's camp. Arnold, whose treachery had already been exposed, was leading an outfit of Redcoats in Virginia. Armistead gained Arnold's trust and worked as a double agent against the British. Armistead guided the British along local roads and fed them misinformation while secretly reporting back to Lafayette on their movements.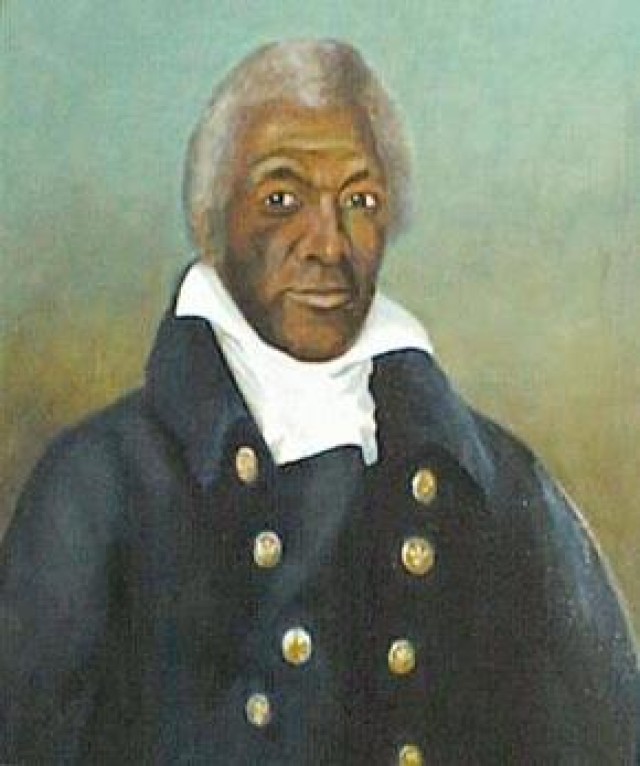 In the spring of 1781, Arnold departed for the north. Meanwhile, Armistead linked up with the camp of Lord Charles Cornwallis and continued his work as a double agent. Because of his status, British officers would speak openly about plans, logistics, and troop movements in front of him. He documented all the information that he could and sent it back to Lafayette in writing through a network of other Patriot spies. This intelligence gathering proved to be instrumental in the British defeat at Yorktown in October of that year.
Although Virginia passed a manumission act in 1782 that allowed slaves who fought in the Revolution to be freed, Armistead remained in bondage. A 1783 law specifically freed slaves only if they had served in their master's stead as a soldier during the war. Because he served as a spy, he did not qualify. However, in 1786, Armistead petitioned the Viriginia Assembly for his freedom. With the support of his master, himself a member of the House of Delegates, and a written testimony from the Marquis himself, Armistead was finally granted his freedom in 1787. On January 9, Armistead became a free man and added "Lafayette" to his name in honor of the Marquis.
James Armistead Lafayette remained in New Kent County where he married, started a family, and became a wealthy farmer. He also received financial aid and a pension for his service during the war. In 1824, the Marquis de Lafayette returned to the United States to tour the 24 states. During his tour of Richmond, the Marquis spotted Armistead Lafayette in the crowd. He abruptly ordered his carriage stopped and ran out into the crowd to embrace his wartime friend. As with his birth, historians disagree on both the year and location of his death. He died either in Baltimore in 1830 or in Virginia in 1832.
Intelligence is the driving force of any war and James Armistead Lafayette's work in the field was crucial to securing America's independence. His legacy is the free country and the liberties that we enjoy today.