A guide to CW5s, the military's mythical rank
SUMMARY
There is a special bedtime story that all platoon sergeants and petty officers tell their troops; there exists a special rank of chief warrant officer that is the premiere technical expert in their field. This mythical rank is called "Chief Warrant…
There is a special bedtime story that all platoon sergeants and petty officers tell their troops; there exists a special rank of chief warrant officer that is the premiere technical expert in their field. This mythical rank is called "Chief Warrant Officer 5."
---
Young service members typically believe in the story for the first few years, but then begin to question it. If warrant officers 1 and chief warrant officers 3 could really grow up to be chief warrant officers 5, wouldn't they have seen one by now?
But now, in a We Are The Mighty exclusive, we can confirm that CW5s — a commonly accepted abbreviation for the species — do really, truly exist.
While many of their superpowers are still unknown, here are the ones they've demonstrated in view of our crack team of researchers so far:
1. Insane levels of knowledge (probably)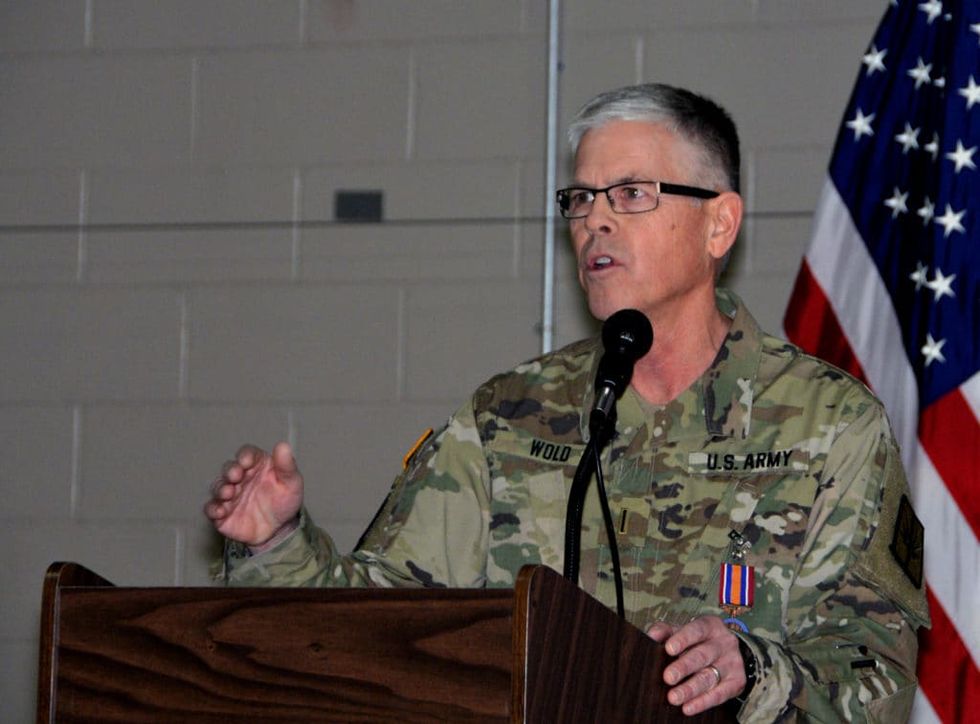 This photo reportedly depicts a CW5 from the New York National Guard dropping some major knowledge bombs on other troops. WATM could not independently verify that this particular CW5 exists, but the chest markings are consistent with the specimen we observed. (Photo: U.S. Army National Guard Master Sgt. Raymond Drumsta)
The video at the top highlights the power that supposedly makes the CW5s so valuable. Legend says that they know everything about their assigned area. Aviation CW5s can quote the length and placement of each storage panel on the body of an Apache. Signal CW5s can quote frequencies like chaplains quote chapter and verse.
Having witnessed one of the beautiful creatures in action, WATM can confirm that they say a lot of technical stuff that sounds super impressive. Unfortunately, there's no way to tell if what they're saying is accurate since it usually involves details so obscure that literally no one else knows where to check for answers.
2. CW5s can appear and disappear at will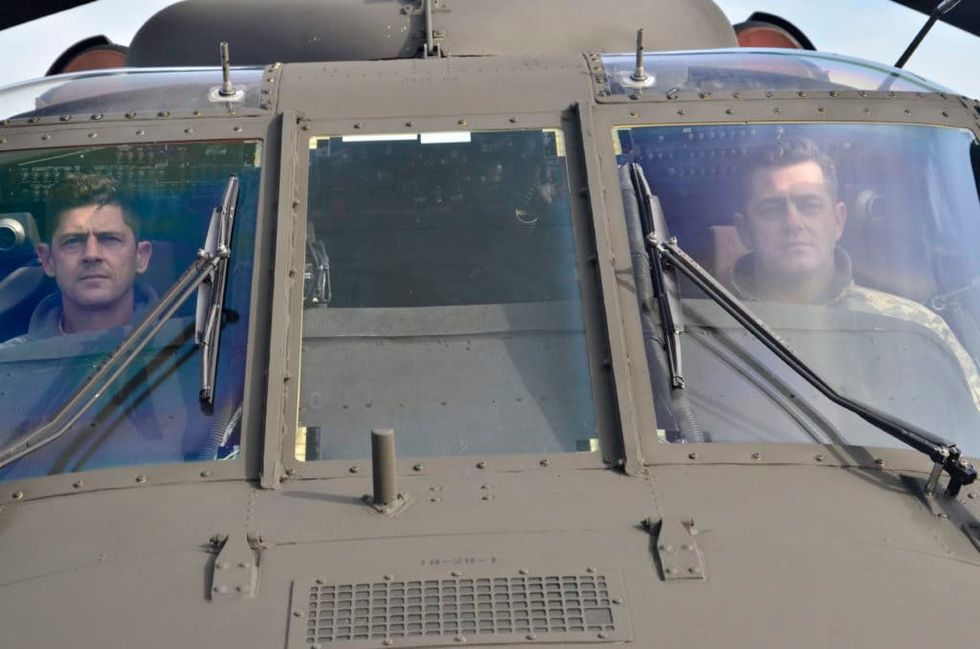 A CW5 and chief warrant officer 4 sit in a helicopter together a short time before they disappeared without a trace. Aviation CW5s may be the most elusive of their breed since they can literally fly away from observers. An unsubstantiated report claims that the two chiefs in this photo are brothers. (Photo: U.S. National Guard Sgt. Jodi Eastham)
The only specimen which WATM was able to observe was working in an office with an open door on a separate floor of our building. We, of course, established a 24-hour watch with a duty log filled with hundreds of pages of blank paper that we thought would soon be filled with observations.
But, somehow, after only a few hours, the CW5 disappeared without a sign. According to troops of more common rank in the area, that's how CW5s work. They'll be present at a random formation or two and visible in the office for an hour at a time, but then they'll be gone. When they return, everyone is so carried away with awe that they forget to ask the CW5 where they were.
3. CW5s are masters of camouflage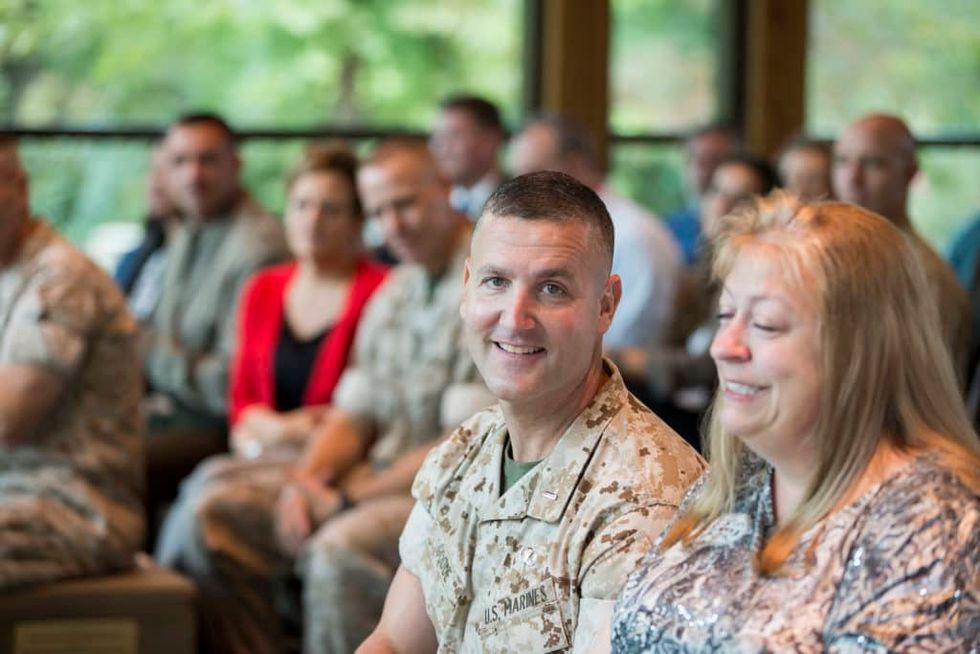 Think this is a prior service lieutenant? Then he fooled you. That's a Marine Corps CW5. It takes only a slight amount of glare to render their markings indistinguishable from the lowly LT. (U.S. Marine Corps photo by Cpl Timothy A. Turner)
One possible explanation for the disappearing act is that CW5s are able to blend in with lesser members of the military thanks to two important features of their markings. First, their skin is covered in the same pattern as other service members, allowing them to blend into the herd like zebras would.
Second, their identifying rank markings are a thin bar of blue, black, or red sandwiched between two silver bars. This causes many observers to mistake them for extremely old lieutenants.
4. Still, there's a lot we don't know
While WATM is excited and proud of this advance in warrant officer science, many avenues of research remain open and require answers. Is it true that CW5s retire from the military? Does the president really have to sign off on their rank? Do they really originate from the ranks of chief warrant officers 4?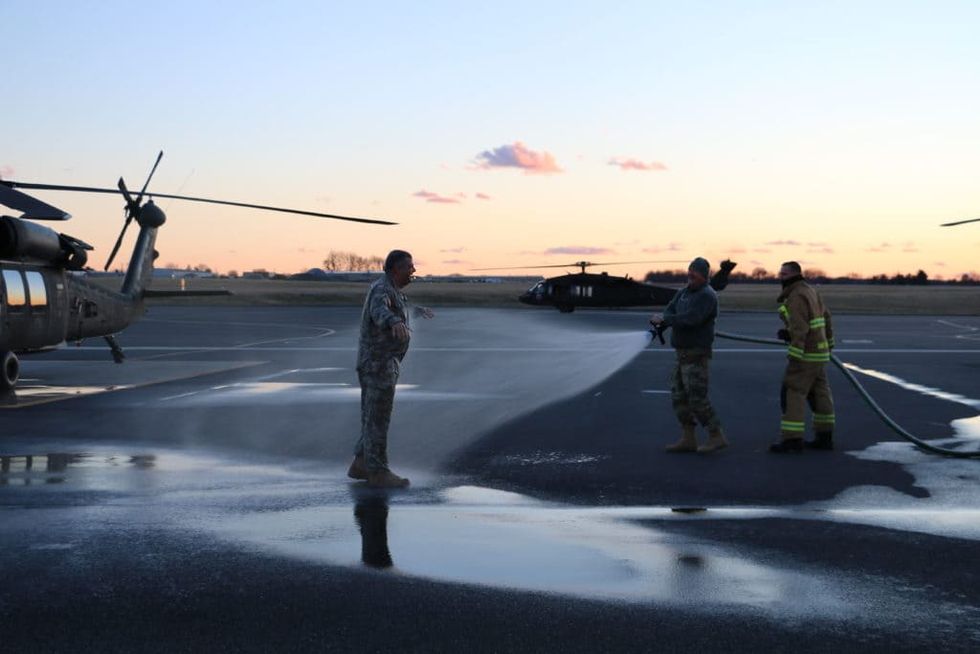 Chief Warrant Officer 5 Dave Dale sprays down Chief Warrant Officer 5 Richard Wince following his final flight in a Delaware National Guard UH-60 Blackhawk on Wednesday, February 15, 2017. It's possible that this ritual allows CW5s to prepare their knowledge to transfer into a new vessel. (Photo and first half of the cutline: U.S. Army National Guard 2nd Lt. Wendy Callaway)
WATM's working theory is that CW5s do not retire and are not created by promotion. Instead, CW5s are reincarnated in a system similar to the Dalai Lama and Panchem Lama. When a CW5s mortal body fails, its knowledge moves to a new human frame. Other CW5s find this new repository and grant it the ancient markings of their people.
Of course, we will continue our research into this amazing discovery.